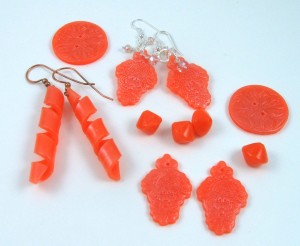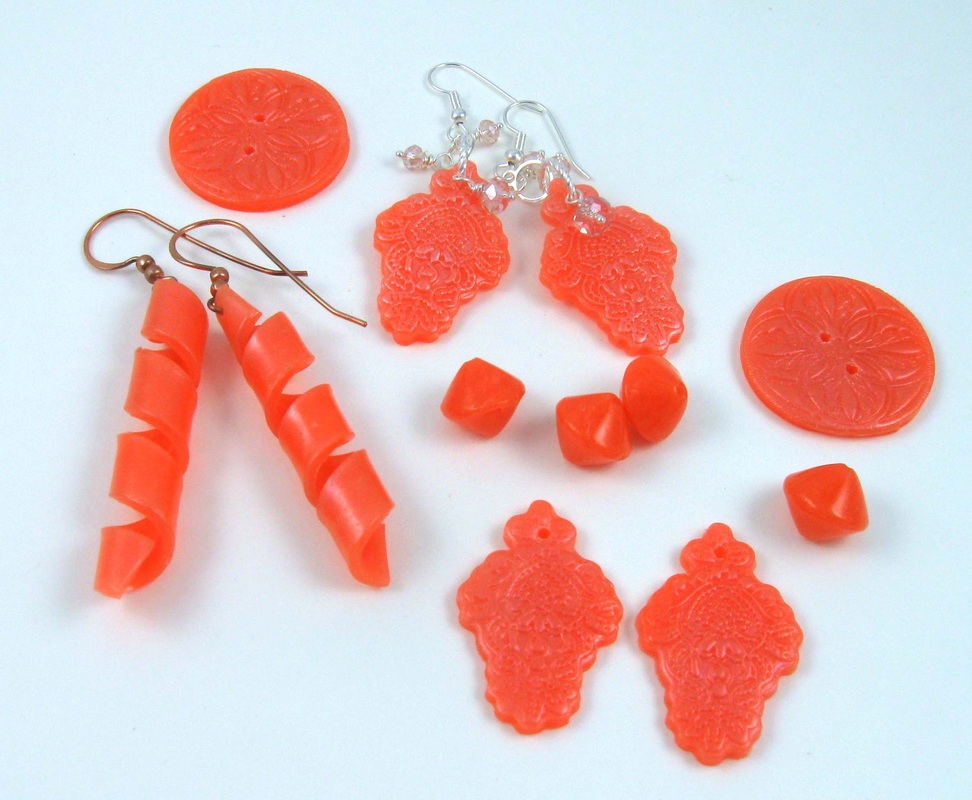 It's been a wonderful clay-filled three-day weekend (Happy Birthday, Mr. Presidents! and thanks for the holiday). After almost two months of abstaining from playing with polymer clay, or making jewelry, or anything else remotely creative because of tendonitis in my wrist, there was so much I wanted to accomplish in the studio. Not the least of which is trying out some of the polymer clay extruder techniques I've been pinning.
Alas, I'm fairly certain strong-arming the extruder for six weekends in a row during my last-minute rush to get ornaments made before Christmas contributed to the demise of said wrist. To be sure it's fully healed, and until I get one of these nifty looking adapters for my drill, I decided to forgo the extruding for a little longer.
Luckily, I have a few extruder-free tutorials that have also been at the top of my wish list to try. I've been amassing the supplies and materials called for, just waiting for the day when my hand wasn't numb and tingly.
I started with the Masterful Faux Made Easy by Linda Mosely/Diva Designs, partly because one step requires letting things rest for 24 hours. I tried out the purple turquoise recipe, because purple is just so pretty.
While my faux purple turquoise recipe was doing its thing in a place safe from dust and cats' paws, I went back to the Faux Glass Effects tutorial from Ginger Davis Allman/The Blue Bottle Tree. I had played briefly with this one before my wrist went kaput (not in any way because of this tutorial!), and wanted to try out some new colors.
I wanted to make some black faux glass beads and a pendant or two. I had some Pitch Black alcohol ink from Ranger. It looks black in the bottle. It even looked black as it dripped out of the bottle. However, as happens with many colors of ink when mixed with clay, it changed color. Into a lovely olive green. Not what I was going for, but still something I could work with.
I also tried a couple of red inks. Again, the color of my baked clay did not resemble the hues of inks in the bottle. But the results were still pretty.
As long as I was playing and testing new things, I decided to try a new bead shape – the corkscrew. I think they make fun earrings. There's still work to be done refining the technique, so these "tester" earrings will likely appear as prizes in future flash contests
on my Facebook page
.
Coming back to the faux purple turquoise I started, I got out my cutters and played with shapes for pendants and earrings. I even threw in a couple pair of cuff links (the start of my jewelry for men designs?). These are fresh from the oven and still need finishing. Stay tuned to see what I make once I get them all smooth and shined up.
I feel so productive. I made all these beautiful polymer clay things, did three loads of laundry, thought about mopping the floor, and updated my Etsy shop with some things that had been waiting to be photographed for weeks. If only every weekend were three days long.