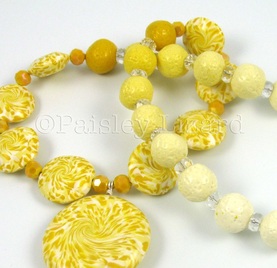 The theme for week three of the April design challenge on the Self Representing Artists in Jewelry Design blog was "air" as one of four elements. Air can't be seen, at least, not directly. So how do you represent in a jewelry design something that is not visible?
The influence of air on objects can be seen when a breeze rustles the leaves on a tree, or when wind blows clouds across the sky. Swirling currents of air can be seen when they pick up dust and debris and spiral them around in a vortex. The air element is often represented by a trio of swirls or by a spinning vortex. 
When initially contemplating this theme, I thought of several jewelry designs with a vortex, most involving swirling spiraling wire. Then, when working on my earth element design, I got a little obsessed with yellow beads. As it happens, yellow is the color often used for the air element. So I decided to make some yellow beads. Swirly yellow beads, to be exact. Thus began my adventure in making swirled lentil beads from polymer clay.
I wasn't sure what I was going to make for my jewelry design, other than something with swirly yellow beads. So, I baked up a smorgasbord of shapes and sizes for my muse to choose from.
Those yellow gradient bead kabobs on the bottom left of the plate were made using the super easy to follow "Graduated Colors" tutorial by The Blue Bottle Tree. I was able to make exactly the size and number of beads I wanted without wasting any clay.
I used the technique from this tutorial by Diva Designs, Inc. to make the two yellow and white striped pendants. Then I rolled some scrap clay into snakes, planning to make marbled swirl pendants. But when I saw the pattern on the snakes' cross-sections, I decided to make a little cane of them instead. That's one of the many fun things about polymer clay:  endless patterns and possibilities.
I used the cane to make lentil beads. I had made some swirled lentil beads once upon a time, and couldn't remember how. Thanks to the magic of Google and YouTube, I found this video tutorial, dug up my piece of acrylic, and a-swirling I went.  The first few beads were less than swirly. They got better with each bead I made. The very last bead was, in my opinion, nearly perfect. But by then I was out of cane.
In the end, I had all the yellow beads I could possibly need for my air element design. And then some. I had more options than I intended. I stared at my yellow beads and moved them around on my design mat for quite a while trying to figure out which to use.
Ultimately, I gathered the best of my swirled lentils and laid them out with my round yellow gradient beads. They were almost the perfect necklace length. To complete the necklace, I just added some faceted glass spacer beads plus a hand-made wire clasp and pendant bail.
I added that bottom dangle on impulse.  Took a bunch of photos. Stared at them. Decided it looked disconnected from the rest of the necklace. And distracting in a not-good way. I ended up removing it.
I wanted to keep the swirl theme going with the clasp. I didn't have anything swirly in my clasp stash. So, I made a "yin-yang" swirl connecter and the hook part of a hook-and-eye clasp from some silver-plated artistic wire.
I hammered them a little to help them hold their shape. (Weeeeeee! Smashing things with a hammer is mighty therapeutic. And a little noisy. Sorry for interrupting your cat nap, Inspector Mango.)
I had two lentil swirl beads that were a close enough match in size and pattern to make these earrings. They would go great with the necklace. Or they could be happy all on their own.
I contemplated submitting them with the necklace, or in addition to the necklace, as my contribution to this week's challenge. In the end, I decided to go with just the necklace. Which I had to re-shoot after giving it a little beaded dangle-ectomy.
I am very happy with my sunny swirly yellow beads. Yellow beads are far too under-represented in the jewelry world, in my opinion. So I feel especially good about a design that not only features yellow, it celebrates it. I hope you can see the "air" element in this design.
I also hope you will follow this blog (by RSS feed, email subscription, or feed servers linked in the right column under my photo), follow me on Facebook, join me on Google+, and tune in to my Twitter feed to see what I create for the next element challenge – fire, and for all the latest on my designs and beady adventures.