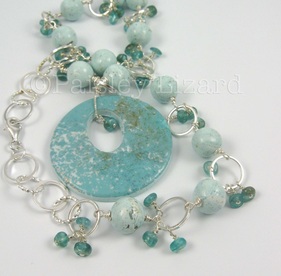 As I continued into the second week of the second month of jewelry design challenges on the Self Representing Artists in Jewelry Design blog, I encountered an unexpected difficulty with the theme.
The overall theme for April is elements, and the sub-theme for the second week was water. Water is a theme I've previously been very comfortable representing in my designs. However, I wanted to design something outside my comfort zone because that's why I am participating in the challenges. And wow was it uncomfortable to be unable to execute my concept as envisioned.
Before I get into the details of my challenge with this theme, let's take a look at some of my past water-themed designs.
Are you sensing an ocean theme? Yep, when I think of water and jewelry, the first place I usually go is "ocean." Which is odd considering I'm from a land-locked state in the southwest. Or maybe not, considering I've been working in the marine conservation and policy arena since grad school.
Because nearly every water-related jewelry design I've created is marine-themed, I decided to challenge myself to think about water in a different way. The first thing I thought of was tides and the moon's influence over the ebb and flow of water on the planet. Yes, I know – most people think tides equal ocean. But the push and pull of the moon affects bodies of water everywhere. Possibly even the water in our bodies, and how we feel and behave as a result.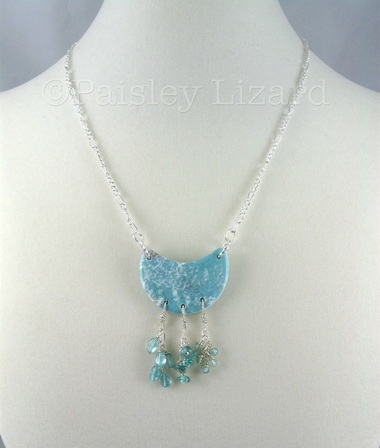 This necklace, which I call "Spring Tide" went through three revisions. There was much cutting off of wire-wrapped links and mumbled four-letter words involved. Things just didn't hang or sit the way I envisioned or sketched. This final version is still not exactly what I had in mind. But it's about as close as I am likely to get with the supplies and patience on hand.
I made the crescent moon focal from polymer clay. It's one of the faux larimar pieces I created a while ago. The small beaded clusters – which are to represent the ebb and flow of water – are various shapes and sizes of apatite. Those beaded clusters are what gave me fits. Even now, as I see the photo while writing this I contemplate taking it apart one more time. Maybe my vision would be realized if I made the longer dangle with the smallest beads and vice versa? Maybe I just need one bead per dangle? The world may never know.
Because I was not thrilled with how my original concept ended, I went back to the bead board. Still thinking "not ocean" I went to the cycle of water, from vapor in clouds to falling rain to fresh water pooling in puddles.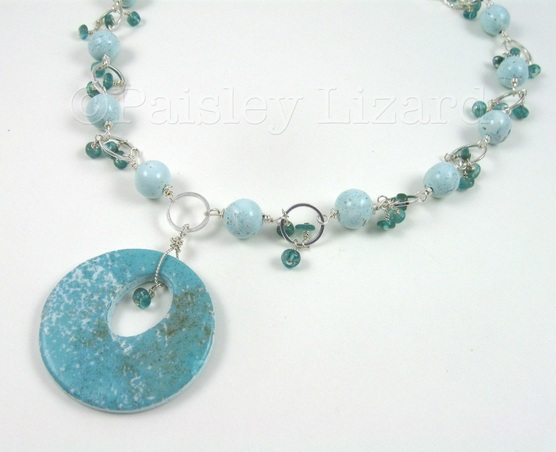 The focal pendant is another polymer clay piece I made from the same faux larimar recipe as the crescent moon. The larger beads are also polymer clay, left over scraps from that batch. I used apatite beads again too. The color goes so well with the focal, and it reminds me of freshwater lakes and streams.
I call this piece "April Showers" and I hope you can see why. This is the design I submitted for the challenge. It's not the one I envisioned when I first set out, so it's difficult for me to like it as much as I want.  All you creative (or perfectionist) types can probably relate to that feeling. Do I wish I had stayed in my comfort zone and created another ocean-y design? Absolutely not.  I enjoyed the challenge and look forward to next week's theme – air.
Stay tuned here (you can follow this blog by email subscription, RSS feed, and feed servers linked in the right column below my photo), and follow me on Facebook, find me on Google+, or tune in to Twitter to see what I dream up to represent a thing that can't be seen (air), and to get the latest on my other new designs and jewelry-making adventures. And check out my Etsy shop for all the water-themed jewelry. It even comes in colors other than blue.