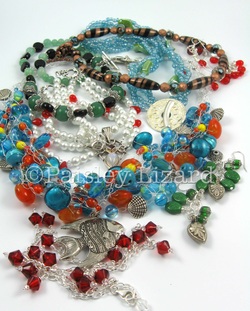 Welcome to my first blog hop. Let me begin by thanking the intrepid Lori Anderson, hostess for this international bead-swapping blog-hopping extravaganza.  Thanks also to my partner, Sue, for supplying a gorgeous and challenging soup mix.
The turquoise, black, and red glass bead combination Sue sent is squarely in the middle of my color comfort zone.  So I was initially complacent about getting started, thinking I would have no problem incorporating the beads, focals, and clasp into jewelry designs. Once I finally sat down to start designing is when I realized the real challenge for me was in the shapes of the beads. I couldn't decide how to use round, tube, teardrop, and coin beads all in the same design.
I wasn't able to come up with a single design that incorporated all of my soup into one piece of jewelry. I knew from the beginning I would have at least three pieces: one for each focal, and a third to show off the clasp that was too pretty to be hidden in the back of a necklace. In the end, I came up with six necklaces and two pairs of earrings. Click on the photos below for larger views.
The Teardrop Focal and some Red Glass Fringe Beads.
The piece I started first – and finished last – is a multi-strand necklace with the teardrop focal. I wanted to do something Victorian. I made and took apart three designs, running out of bead wire in the process. When shopping for more wire I found the 3-to-1 connectors (they're really earring stations) that gave me the idea for this final design, which incorporates glass pearls and Swarovski bicones from my stash.
The Red Glass Bicones.  The first piece I completed was part of one of the failed attempts with that teardrop focal. I used most of the red glass bicones to make a beaded fringe choker style necklace. I wire wrapped the bicones onto silver chain, adding small clear crystal bicones to keep them from falling off the ends of the headpins.
Some Red Glass Fringe Beads and Bicones. I used the last of the red bicones and half the red fringe beads to make these chandelier earrings. I first made the oval stations and then briolette wrapped the fringe beads onto them. I used a pair of bicones to connect the ovals to the earwires. My briolette wraps need a little practice.
The Black and Blue Swirl Lampwork Beads. These beads were the biggest challenge for me in terms of finding things in my stash to coordinate with them. I didn't have any blue beads in the right shade to match those blue swirls. Eventually, I gave in and bought a strand of black beads that had copper (or maybe it's rose gold?) stripes similar to the swirls in the lampwork beads. And I threw in a handful of faceted copper glass beads and a copper clasp from my stash.
The Silver Clover Drops. I really really wanted to use these drops with the teardrop focal but nothing I tried looked right. So, I put them on  chain with some green pressed glass and cathedral beads to make dangly earrings. That design on the drops may not be a clover, but that's what it looks like to me. And it's a pretty close match to the clovers on the pressed glass beads.  Very "luck o' the Irish" right?
The Silver Bead Caps and Black Coin Beads.  This is the only design where I deviated from the glass beads theme of the soup mix my partner sent. I simply didn't have any glass beads large enough for those lovely bead caps. The only ones I did have were green aventurine. I think they contrast nicely with the black coin beads. Naturally, I didn't have any smaller green aventurine beads, so I mixed them with some amazonite to round out the necklace.
The Clasp. This silver toggle clasp was a focal piece all on its own. I initially thought about using it for a bracelet. But it really wanted to be part of a necklace. I paired it with four strands of turquoise blue seed beads and a handful of twisted green glass leaf beads. And I taught myself to do a four-strand braid. And then promptly forgot how. But I pinned the page with the helpful photo tutorial for future reference.
The Fish Focal, Turquoise AB Glass Rounds and Tubes.  For this design, I learned to crochet with wire. My original idea for my soup was to use all the beads, the clasp, and the fish focal in a big statement necklace that was supposed to look like a tropical reef. I think it would have worked, color-wise, but I decided to go with a blue, orange, and yellow color theme instead. I crocheted the turquoise beads from my soup along with a strand of bright orange foiled glass beads, some turquoise foiled glass beads, turquoise teardrop beads, silver scallop shells, and faceted yellow glass beads. It's definitely a statement piece. And has me hooked on wire crochet. (pun intended)
The Leftovers. I tried my best to use every last drop of my soup mix. Alas, I had one orphaned bead cap left. I added it to my collection of orphaned bead caps and silver beads. Someday when I have enough, I will make a fabulous bracelet or necklace with them all.
I was challenged by my soup and learned some new skills that I hope to perfect in new jewelry designs.  Now I'm off to the hop, the Bead Soup Blog Party hop, to see what my partner made with what I sent her, and to check out what the other nearly 500 participants from all over the United States and around the world designed with their soups. I hope you'll join the party and come blog hop with us.  Go here for the complete list of participants and scroll to the bottom for links to their blogs so you can see what everyone else made. Leave comments on their blogs to let them know you stopped by to admire their work. And if the spirit moves you, share that link on your own social networks to invite your friends. Everyone is welcome to the party, and there's plenty of eye-candy to go around.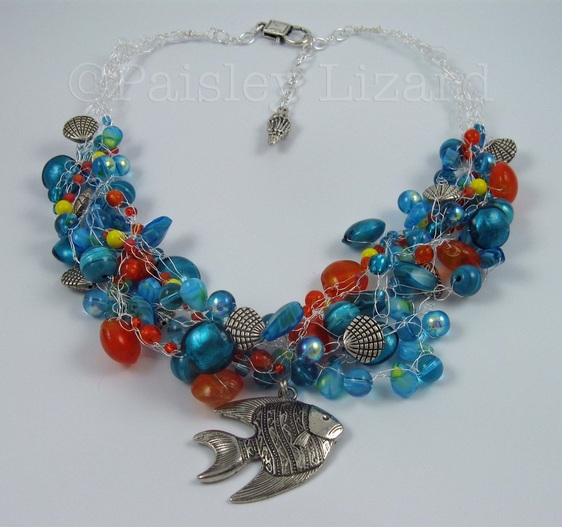 Be sure to follow this blog, (by RSS feed, email subscription, or feed servers linked in the right column under my photo), follow me on Facebook, join me on Google+, and tune in to my Twitter feed  to see what other creative challenges I take on and for the latest on new jewelry designs from Paisley Lizard.