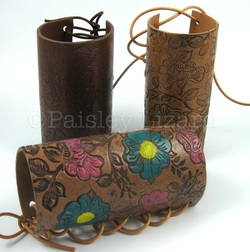 The theme for week two of May in the Self Representing Artist in Jewelry Design challenge is "Artemis, goddess of hunting, wilderness, wild animals, childbirth, and the moon."  This is my third month participating in the challenges and my ninth design submission.
Over half of my designs so far have been made with polymer clay. While I am not new to polymer clay, making beads was not my thing and I have been challenging myself with new techniques like the smooth coin beads in Apollo's necklace last week, or the swirled lentil beads for the air element last month.
For Artemis, who is often shown with a bow and arrows, I wanted to design a decorative archer's wrist guard.  Wrist guards are worn to protect the archer's wrist and forearm from the bow string and fletching on the arrows.  The purely functional ones are typically made of leather whereas the decorative ones are often leather with metal and stone accents. My jewelry designs are cruelty-free, which excludes using leather, and I don't have the tools or skill for metal smithing, so polymer clay seemed the natural choice.
The first one I made, with a recipe adapted from this tutorial, was a rich chocolate brown with darker brown floral pattern. I think it's a pretty good impostor in color and texture (although it smells nothing like leather). I wanted to try a lighter color and see if I could get the texture deeper, to look more like tooled leather.  So, I modified the color recipe and used a different stamp for attempt two.
The second one is closer to a buckskin color, which is more likely the kind of leather a goddess associated with deer would wear. And the pattern from the stamp is exactly the depth of texture I was hoping for. Plus, I had a little bit of faux leather cording that was a pretty close match.  Still, I couldn't leave well enough alone and decided to try a painted leather look for version three.
I am not the best painter, never having been good at coloring inside the lines. That's one reason I opted not to paint the embossed floral and leaf pattern over the entire cuff.  The other reason I chose to highlight just a few of the blossoms here and there was to let the "leather" shine too. This color recipe is slightly different from the second one, but still a close match for that last remnant of butterscotch-y cording.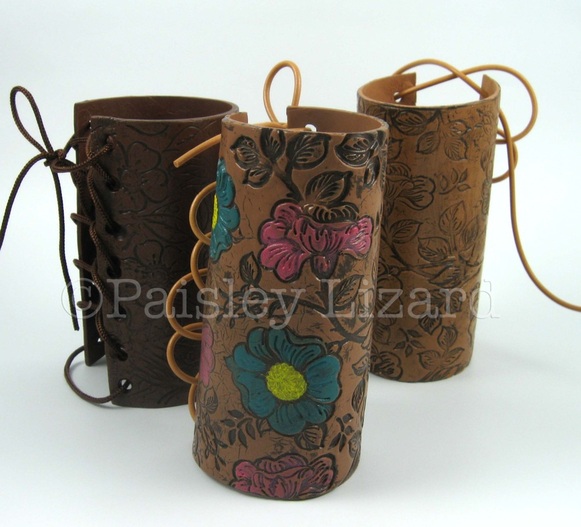 I'm not sure which one Artemis would prefer, but I like them all equally. And yet, I couldn't stop making them. The polymer clay is much more flexible than I would have thought, and I can bend them to get them on and off without any cracking of the clay. I had to try other colors.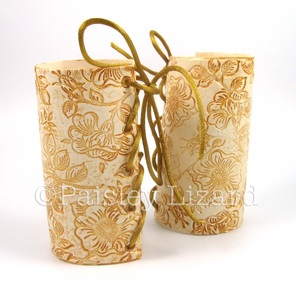 As I thought more about this design for representing a goddess, I decided it needed to be opulent, maybe incorporating some gold and jewels. I ran out of time to execute my totally decorative positively non-functional jewel-encrusted wrist guard. But I did have time to finish this gilded white leather version.
I know archers only need one wrist guard, for the arm holding the bow, but I thought a goddess might want a matching set. Or a spare.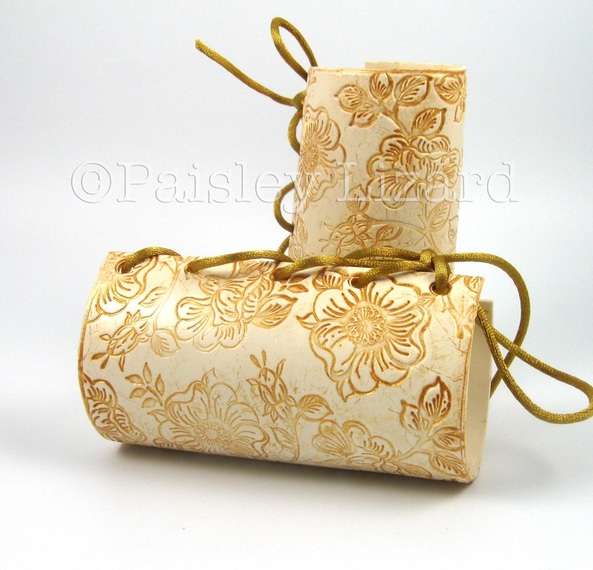 Up next is "Dionysus, god of wine, parties, madness, and ecstacy." I hope to see you back here next week to see how I translate those attributes in a jewelry design. And I hope you'll subscribe to this blog (by RSS feed, email subscription, or feed servers linked in the right column under my photo), follow me on Facebook, join me on Google+, and tune in to my Twitter feed to get updates on my newest jewelry designs, sales in my Etsy shop, and other design challenges and adventures from Paisley Lizard.