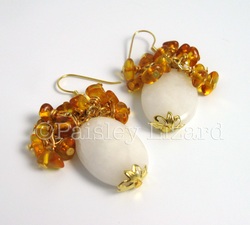 The overall theme for May's Self-Representing Artists in Jewelry Design challenge was "Greek gods and goddesses." I designed jewelry for each of the weekly themes, which were based on attributes of individual gods and goddesses. For ideas to represent the overall monthly theme of gods and goddesses in general, I consulted my mythology books. And of course, Google, god of internet searches.
I needed a commonality, something shared by the gods and goddesses.  Something I could represent in jewelry design.  There's Mount Olympus, where the most powerful made their home. Making a mountain into jewelry? That's a bit more challenge than I'm up for.  What about ambrosia, food of the gods? I can do food-inspired jewelry. Happens all the time.  Before I tell you about my ambrosia design, here's a little recap of the weekly deity themed designs.
First up was "Apollo, god of the sun, light, and healing." I used polymer clay to make color gradient beads and a pendant for a necklace to represent Apollo pulling the sun across the sky, bringing sunset and sunrise each day. You can read more about this design here.

Next was Apollo's sister, "Artemis, goddess of hunting, wilderness, wild animals, childbirth, and the moon."  I used polymer clay to create faux leather archer's wrist guards for the goddess who hunts with a bow and arrow. You can see the color variations I tried and read more about this design here.

For the third week the theme was "Dionysus, god of wine, parties, madness, and ecstasy." I tried my hand at beaded wire crochet to create this wild overgrown vineyard necklace. You can read more about this design here.

The theme for the final week was "Chronos, god of time." I had all kinds of challenges within this theme. In the end, I went with a wire-wrapped necklace of hands-free watch faces to symbolize how our perception of time is subjective. You can read more about this design here.

And now for the ambrosia. Depending on which accounts you read, ambrosia was either food or drink. Or it may have been nectar. Or there was both nectar and ambrosia. Either way, it was something special reserved for the gods and those they chose to gift with immortality. According to some, ambrosia was honey, a golden healing nectar.
When I think honey for jewelry, I think of amber. The color variation is similar to that in honey. And it's plant derived, just like honey. Well, honey is technically bee-derived, but the bees started it with plants.  I was all set to make a necklace with some large simulated amber slabs and beads. But I didn't like any of the arrangements I tried because the fake-amber pieces were too uniform in shape.
For some reason, while I struggled with my amber slabs, "land of milk and honey" kept popping into my head. I don't know if any ancient texts (or modern scholars who study them) depicted the Greek gods drinking milk, but milk and honey is a common theme in other mythologies and religions as a symbol of vitality and fertility. So where did I put my milky white beads?
These are the first earrings I've submitted for the design challenges. I've mostly been creating necklaces, with an exception for Artemis' wrist guards. I started out with a necklace sketch for this too. I ended up with earrings because I didn't have enough white beads. And couldn't find any I liked in stores near me. Normally when that happens I would just get out my polymer clay and make beads to suit my design. But it's too hot (already, in May!) to work with clay in my studio. So, earrings.
I used real amber chips on gold-plated chain, dripping over milky white glass ovals. I rarely use gold in my jewelry, but the gods and goddesses theme called for it.  And amazingly, I was able to get decent photos of the white beads. Surely the gods have smiled upon me, to make up for the busted bulb when trying to shoot the Chronus necklace earlier this week.
Coming up for June is a month of "exotic landmark" themed design challenges, starting with Kyoto, Japan for the first week.  I hope to see you back here to see how I translate that theme into jewelry designs.  And I hope you'll subscribe to this blog (by RSS feed, email subscription, or feed servers linked in the right column under my photo), follow me on Facebook, join me on Google+, and tune in to my Twitter feed to get updates on my newest jewelry designs, new listings in my Etsy shop, and other design challenges and adventures from Paisley Lizard.