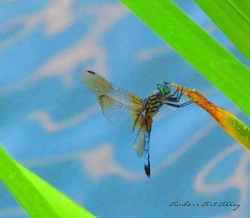 Welcome to my post for "The Age of the Dragonfly 13th non-blogger/blogger challenge" hosted by Krafty Max Originals.  This is a round-robin event where the winner of the previous challenge (jewelry design chosen by popular vote) chooses the theme for the next challenge.
Our hostess shared this image as inspiration for the challenge.  We could design jewelry based on actual dragonflies, the colors in the photo, or the spirit and symbolism of the dragonfly.  I happen to have a slight dragonfly obsession, and I guess it's been one of my totems for as long as I can remember.  Here are some of my dragonfly-themed jewelry designs of the past and for this challenge.  (Btw – a flight is what you call a group of dragonflies.)
This was one of my first dragonfly necklaces, made years before this challenge came along. The focal is actually half of an s-hook clasp. It's strung on bead wire, using seed beads to form a loop bail, joined to blueberry glass nuggets with small pewter dragonfly beads. I didn't know how to make wire pendant bails when I first started making jewelry and all my designs were beads on nylon-coated steel bead wire. It's a tried and true technique. And a wire bail wouldn't have looked as good here anyway.
This is a batch of jewel-tone dragonfly earrings I made after discovering a strand of pewter wings in my local bead store last summer. Endless color possibilities there. I used combinations of Czech glass beads and fire-polished crystal to evoke the shimmery iridescent effect of dragonflies.  I still have some wings left, and lots more beads.
This beaded charm bracelet was very labor-intensive. There are over four dozen fire-polished crystals individually wire-wrapped on the copper chain link bracelet. I added an antiqued copper dragonfly charm as an accent, but really it's the focal. The beads make a fun sound when the bracelet is moved.
This necklace and earring set features Vintaj brass dragonfly charms, a leaf connector, chain, and findings (the clasp and ear wires). I added color with some turquoise glass millefiori oval beads and fire-polished crystals.  When I fist started making jewelry I worked exclusively in silver. Then I branched out to copper, which is a personal favorite. Then I discovered brass, which I realized is perfect for giving a vintage-inspired look to modern jewelry designs.
A symptom of my dragonfly obsession is that I collect dragonfly-themed things. Home decor, jewelry, fabric, beads, etc. The cloisonne beads in these earrings were collected years ago, and have been waiting for the right design. When I recently found the cloisonne dragonfly charms, I knew they and the beads were meant for each other. I connected them with some copper Czech druk beads and silver-plated chain. I adore dangly earrings. The longer the better.
The metal dragonfly in this necklace was part of a scarf ornament. I have no idea how to use those. I bought it because it was a dragonfly. A really cool dragonfly. I layered it over a mosaic turquoise flat disc, using wire to make a pendant bail. I strung it with more mosaic turquoise, some blue-dyed chalk turquoise, and orange-dyed magnesite.  Mosaic turquoise is dyed and reconstituted. It's not as precious, or as delicate, as natural turquoise. Turquoise in all its variations is my favorite gemstone for jewelry designs.  The colors and patterns in these beads make me think of water sparkling in bright sunlight.
This is not the end of my dragonfly-themed jewelry designing, just the end of what I have for you today. I have many more pendants, beads, and focals in my stash. And I am sure to keep finding and buying more.
Why am I so drawn to dragonflies? For me, dragonflies are a symbol of transformation and adaptability. And their ephemeral nature is a reminder to enjoy every moment. (Plus, they eat mosquitoes, which would otherwise be feasting on me, so, bonus.)  I wear a dragonfly totem every day.
Thanks for stopping by to have a look at my dragonfly-themed designs. The voting is taking place between June 29th and July 6th on the group's Facebook page. The competition is pretty amazing. I am honored and inspired to be part of the group.  Stay tuned to my Facebook page to hear how it all turns out. I also hope you'll follow me here on this blog by RSS feed, email subscription, or feed servers linked in the right column under my photo. You can also join me on Google+, and tune in to my Twitter feed to get updates on my newest jewelry designs, new listings in my Etsy shop, and other design challenges and adventures from Paisley Lizard.
Be sure to visit these other participants in this challenge (not a complete list, as some participants are not bloggers):
Krafty Max (hostess) – kraftymax.blogspot.com
Robin Kae Reed –  willowdragon.blogspot.com
Renetha Williams Stanziano –  www.lamplightcrafts.blogspot.com 
Toltec Jewels –  www.jewelschoolfriends.com
Chris Eisenberg  –  www.wanderware.blogspot.com
Kelly Hosford Patterson – travelingsideshow.blogspot.com
Shalini Austin – jewellerybyshalini.co.uk