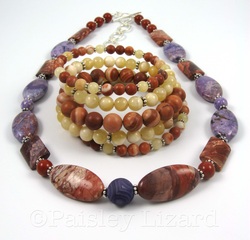 The location for week three of June's "exotic locations" theme challenge for Self Representing Artists in Jewelry Design is Antelope Canyon, USA. It's one of the most visited and photographed slot canyons in the southwest.  What's most exciting about this location for me is that it's located in my home state, Arizona.
As with last week's theme – another exotic desert landscape – the colors and shapes I see in photographs of this location are screaming at me to use polymer clay for this design challenge. I think I will have to revisit these inspiring images this fall when it cools off enough to work with the polymer clay. For now, however, it's another back-to-basics gemstone and wire design from me.
To call this place picturesque is an understatement.  There's a good reason it's one of the most photographed places:  it doesn't take bad photos.  The iron-rich sandstone is a rusty orange-red with lighter colored bands.  In some lighting conditions within the water-carved caves, it takes on a purple, violet, or even crimson hue.  The way the river cut through the rocks over time left some spectacular shapes and flowing patterns.  There's so much wonderful inspiration for a jewelry design.
While the shapes and patterns in the canyon are stunning, I am taking my inspiration for this design challenge from the vibrant color palette of these photos.  I love pairing orange and red with purple in my jewelry.  I gathered all the purple, orange, and red gemstone beads from my stash and stared at them for quite a while looking for the right match to the photos. There was no shortage of choices, but the actual design ideas just weren't coming.
I went back to my image search for the location and suddenly, one photo stood out.  Perhaps it was the contrast of the vivid blue sky with the warm red rocks. Or maybe my subconscious was remembering I had some "red malachite" beads that are banded like the red rocks in the photo.  Red malachite is a trade name for a red banded jasper, and it isn't a form of malachite at all. But that's irrelevant to the fact that it has colors and patterns just like the rocks at Antelope Canyon.
After enlarging the photo and looking closer, I saw the creamy yellows swirled in with the rusty reds. I thought the yellow calcite beads in my stash might be a good mix with the "red malachite" beads. In a multi-strand bracelet that swirls the colors around and around the wrist like the bands of color spiral through the canyon.
The colors of the beads are a fair match for the rocks in the photo. I went with a simple pattern of alternating color bands and just a few silver accents. I wanted to let the natural beauty of the stones be the focus rather than an elaborate design.  And yet, something about it just isn't coming together for me.  Maybe it needs to be a cuff, rather than a bangle, with a slightly different arrangement of beads.  Or maybe it's because there is no purple, and I wanted to use purple with orange for this challenge.
Luckily, there was still time to go back to my bead stash, where I found some large imperial jasper beads with rich red patterns, and some purple agate ovals to complement them. Once again, no design immediately came to mind. So, I put the beads in a little container, along with some smaller red jasper and purple dyed river jasper beads.  I shook it up, like salad ingredients or a marinade, then let it sit for a few days while my muse and I contemplated what to do.  Eventually, a necklace design took shape.
As with the bracelet, I went with a simple stringing technique, and just a few silver accents. The colors and patterns in the beads are so gorgeous, they don't need embellishment. I used an adjustable toggle clasp, because I have learned not everyone who buys my jewelry likes to wear their necklaces at the same length as I do.
I deliberated over which design to submit for the challenge.  They each represent different color palettes from the exotic landscape, and I couldn't choose a favorite. Fortunately, I am not limited to one design submission. So, I submitted them both.
Did I mention I've never been to Antelope Canyon despite being born and raised in Arizona? It's in northern Arizona, near the border with Utah. I'm from southeastern Arizona, near the border with New Mexico, and over 400 miles from Antelope Canyon. Arizona is a large state.  Not one you can get from one side to the other for a day trip. So, this is one of the many gorgeous spots in my home state that are still on my list of places to visit.  I will get there one day.
Until then, I'll be here creating jewelry, starting with my design for next week's location:  Angkor wat, Cambodia.  I hope you'll stop by to see what I create next.  To make sure you don't miss it, subscribe to this blog by RSS feed, email subscription, or feed servers linked in the right column under my photo. You can also follow me on Facebook, join me on Google+, and tune in to my Twitter feed to get updates on my newest jewelry designs, new listings in my Etsy shop, and other design challenges and adventures from Paisley Lizard.