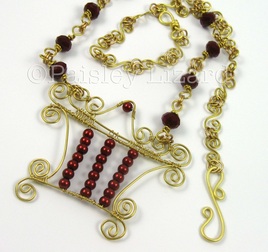 It's my fifth month participating in the Self Representing Artists in Jewelry Design challenges and the themes are getting tougher. At least for me. The overall theme for June is "Exotic Locations" and the first weekly theme is Kyoto, Japan.
I have never been to Japan, but I have caught glimpses of the architecture, fashion, and culture through television and the internet. My impressions of Japan are of course filtered by these selective media. What I think of as symbolic of that country, or one of its largest cities, may not be what someone who's from there, or has visited there would envision. But that's what I'm working with for this design challenge, my impressions from television and the internet.
A few things that come first to mind when I think of Japan are cherry blossoms, origami, and paper fans. My first idea for this design challenge was to make miniature origami cherry blossoms to string on a necklace. I bought some paper in colors and patterns to represent cherry blossoms. Then I searched the internet for a tutorial on origami beads or flowers. I should have done those things in reverse order. Because once I looked at the tutorials, I decided teeny tiny origami was not going to happen.
But I had all that lovely paper. My next internet search was how to make paper beads. Yes, I know the basic step is to cut strips of paper and roll them. But I am one of "those" people who have to read all about a thing before trying it. That way I benefit from the trials and errors of others. One thing I learned was that to make round paper beads you need a very very long piece of paper. Which I didn't have. So, I made oval beads.  Lopsided ovals. Why lopsided? Because if you don't start with a perfect isosceles triangle, you get lopsided beads.
One thing none of my internet sources revealed is that making paper beads is time and labor intensive. There's measuring, cutting, rolling, gluing, sealing. It took me the better part of eight hours (over a long weekend) to make a measly five dozen beads. But they are sparkly and shiny beads. Because I sealed them first with glitter Mod Podge and then with gloss polyurethane. (Note to self:  just because the glitter is in a liquid doesn't mean it won't end up floating and sticking all over your house and person the instant it dries.)
Okay, I have a small pile of lopsided paper beads in pretty colors. Now what? I decided to make a multi-wrap style bracelet with memory wire. I threw in some metal, glass, and wood beads for interest.
The interesting thing is, this bracelet makes me think hippie or boho, not Japan. Maybe it's the wood beads? Maybe it's the colors? Maybe because the beads are lopsided? Or maybe because once it was all thrown together I realized paper beads are just paper beads. They're not representative of Japan.
So back to Google I went, to do what I should have done initially:  an image search for "Kyoto."
First impressions from the image search:  cherry blossoms, pagodas, red. I sketched out a stylized pagoda shape that I thought I could translate with wire. And decided to try wire-weaving, which is a technique I have long admired and always thought too difficult to master.
Guess what?  Wire weaving is decidedly not easy. At least not for me. My first attempt was so pathetic I wouldn't even let my cats see it. My second attempt is not hugely improved, but in the spirit of the challenge to try new things, I am going with it. And I am ordering some technique books before my next attempt.
I used gold colored artistic wire for the pagoda-ish frame, with red glass pearls as accents. It's a little lopsided, which seems to be my personal sub-theme for this weekly challenge. There isn't much wire weaving involved, just enough to hold the frame bits to each other. And just enough to convince me wire weaving (I tried a basic figure eight wrapping) is every bit as difficult as I imagined when admiring other's work.
The chain from which the little lopsided pagoda hangs is made from the same artistic wire. I made the whole thing. Every swirly link, each little jump ring, the red beaded links, and even an s-hook clasp for the back.  I'll pause here so you can admire the beauty of my handmade chain and clasp. (Pay no attention to my messy wire weaving, focus on the chain.)
All right. Moving on. That's the story of my design to represent Kyoto, an exotic place to those who've never visited, and maybe even for those who live there. The theme for next week is "Deadvlei, Namibia" which is another place I've never been. And a place I'd not heard of before this challenge. So, I'm reading up, did an image search, and have ideas whirling around.
I hope to see you back here next week to see what I came up with to represent this exotic place. To make sure you don't miss it, subscribe to this blog by RSS feed, email subscription, or feed servers linked in the right column under my photo. You can also follow me on Facebook, join me on Google+, and tune in to my Twitter feed to get updates on my newest jewelry designs, new listings in my Etsy shop, and other design challenges and adventures from Paisley Lizard.