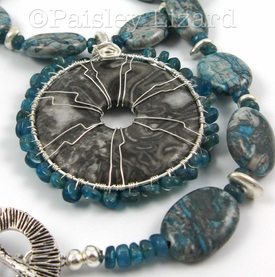 This week's "exotic location" for the Self Representing Artists in Jewelry Design challenge is the Marble Caves of Chile.  Located in a peninsula of solid marble on a remote glacial lake in the Patagonia Andes, these caves have been carved by more than 6,000 years of water erosion.
I chose to use semiprecious gemstones to represent this naturally beautiful place. Which doesn't mean I don't have ideas for polymer clay swirling around in my head, or scribbled all over my design ideas notebook.  I will likely revisit the colors and patterns of this place in the fall when the temperatures are more conducive to playing with polymer clay.
The azure blue of the water, reflecting off the carved marble walls of the cave, is mesmerizing. The colors reportedly change hue and intensity based on season and water level.  I searched my stash for beads in the right shades of blue and couldn't find any that were just right. Oh darn, I had to go bead shopping.
This is what happens when I go bead shopping without a design in mind: random bits and pieces that may or may not come together. I grabbed a black marble donut (upper right), strands of blue-dyed black marble ovals and blue apatite rondelles (center), and a silver oval toggle clasp (top center). From my stash, I added funky organic shaped silver discs (bottom right), some blue glass donuts (bottom left), and gray glass seed beads (tube on the left).
I stared at these components for what seemed like hours, moving them around, eating a bite of chocolate, moving them around again. Some unknown amount of time and chocolate later, I had strung a preliminary design. Please forgive the rather dingy photo, I didn't set up the light tent for these design trial runs and I'm not super skilled at photo editing even in the best of lighting.
This design, where I joined the black marble donut to the necklace with a beaded loop left me feeling …meh. I took it apart and stared at things some more.  And then I decided to try wire wrapping a bail for the donut. I didn't take a photo of version 2, with a basic wire-wrapped loop bail. It was a just a variation of meh. So I decided to try a fancy wire wrapped frame and bail. With beads.
I like this pendant design much better. Can you see the large marble peninsula surrounded by azure waters?  I kept with the basic pattern of the beaded necklace from version one. That part I liked from the start. The beads are beautiful and don't need a complicated pattern. The wire-wrapped frame and pendant bail were highly experimental.  I was making it up as I went, much like my wire woven pagoda from earlier this month. Hopefully future experiments will yield even better looking results.
Having completed my design for the fifth and final exotic location, I decided to do a little charm bracelet to capture the overall theme of traveling to exotic places and discovering new things.  I got to use a power tool for this one. Weeee! I used my cordless drill to [very carefully, with safety glasses and everything] drill two holes in the metal "discover" token I found in the scrapbook section of my local craft store. (If you've been following along with my blog, you know this isn't the first time I've used scrapbook supplies in my jewelry.)
I used the drilled token as a connector link, and added an assortment of travel-themed charms to some antiqued brass finish chain.  At the last minute I remembered this gorgeous globe bead a friend gave me years ago. I think it was the decoration on a key chain or zipper pull or something. I used an antiqued brass finish hoop to frame it.
This has been a fun month for me, getting back to my bead stringing beginnings and working with naturally beautiful gemstones.  Plus trying some experimental wire wrapping and weaving.  The theme for next month's challenges is "iconic painters" starting with Pablo Picasso.  I have no clue how I am going to create jewelry inspired by paintings.  Should be fun figuring it out as I go.
I hope you'll check back to see what my muse and I come up with next. To make sure you don't miss it, subscribe to this blog by RSS feed, email subscription, or feed servers linked in the right column under my photo. You can also follow me on Facebook, join me on Google+, and tune in to my Twitter feed to get updates on my newest jewelry designs, new listings in my Etsy shop, and other design challenges and adventures from Paisley Lizard.