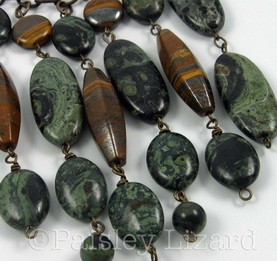 This week's Self Representing Artists in Jewelry Design blog challenge is to create jewelry inspired by the paintings of French post-impressionist painter, Henri Rousseau. If you've been following along this month, you know I have very little prior art history knowledge and have been researching each painter as I go.
I was somewhat familiar with Rousseau's style, but I didn't know it was called "naive" or "primitive." I just knew I liked the colors and themes, which include lush jungle scenes, often with tigers, and sometimes lions. I immediately saw leafy green jewelry for this theme. The challenge was finding the right beads and coming up with a design to fit what I see in Rousseau's art.
I've always associated Rousseau's jungle-themed paintings with Victorian drawing rooms. I don't know why, except maybe when I see them I think of movies with British soldiers and their families stationed in the the jungles of Africa, India, etc. They also make me think of stories from Rudyard Kipling's The Jungle Book and that song, The Lion Sleeps Tonight. Much like Rousseau himself, I've never been in a jungle, but the idea of them fascinates me.
What set Rousseau's work apart from many of his contemporaries was that he broke "the rules" of formal painting. Most notably, there is no sense of perspective in his work: things don't get smaller, less detailed, or muted in color with distance. Some critics of this style thought it was childlike and lacked skill, which is why they labeled it naive. What I like about it is the vibrant color, the strong patterns, and the overall bold simplicity of the lines.
Those are the things I wanted to incorporate into my jewelry design: the verdant color theme, the strong patterns, and the boldness of a simple design. I gathered all my leafy green beads and at the last minute decided I wanted to bring the tiger element into the design. Which required a little bead shopping (oh darn).
As you can see from this in-progress photo, the beads I chose are on the large-and-in-charge side. (And yes, those are cat hairs on my bead mat, as always.) Definitely too weighty for bead wire. Luckily, I stockpiled Vintaj brass chain when my local craft supply store was discontinuing it and had just what I needed for the necklace. I also think the bold simplicity of the bare chain goes with the theme better than a strand of beads on wire.
I used brass colored wire to link together mottled green kambaba jasper and rich golden brown tiger iron beads. The patterns on the beads are bold and require no embellishment (like bead caps, accent beads, etc.) for this theme. I was going to make several more rows (or are they columns since they're vertical?) of beaded fringe, but when I stopped here for a lunch break, I liked what I saw. Can you see a tiger concealed among the leaves, stalking its prey?
The necklace fastens with a lobster-claw style clasp, which means the length is adjustable anywhere along the chain. I like the look of this short, like a collar or choker. Depending on what style neckline your outfit has, and your preference, you could also wear it longer, more like a bib.
While I had my leafy green beads and brass goodies out, I put together this pair of simple earrings. The green beads are serpentine in a wavy oval cut. I bent the Vintaj fern leaf charms over and around them just a bit. They would look great with the necklace. Coordinated, but not too matchy.
I love the jasper beads in this necklace. I think I need to make a bracelet or three with them. I also have more of the tiger iron, including a large donut focal and some chunky flat round beads. The silky chatoyance of the bands of hematite, tiger eye, and red jasper is delicious and mesmerizing.
This design brings me to the end of a month of jewelry challenges based on iconic painters including my "blue period" and collage designs for Pablo Picasso, my modern abstract necklace for Piet Mondrian, and my multi-colored cuff bracelet for Leonid Afremov. I've enjoyed learning more about these artists, and the styles for which they are best known. The themes for next month's challenges are intriguing concepts like kintsugi (for next week), recycling, opposites, and communication.
I hope you'll come back next week to see how I translate kintsugi into a jewelry design. To be sure you don't miss it, or any of my other jewelry design adventures, subscribe to this blog by RSS feed, email subscription, or feed servers linked in the right column under my photo. You can also follow me on Facebook, join me on Google+, and tune in to my Twitter feed to get updates on my newest jewelry designs, new listings in my Etsy shop, and other design challenges and adventures from Paisley Lizard.