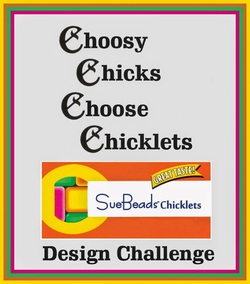 Welcome to the Choosy Chicks Choose Chicklets Design Challenge & Blog Hop, hosted by Toltec Jewels and featuring lampwork beads by Sue Beads. Each participant was sent one "Chicklet" bead to incorporate into a jewelry design.
We were also allowed to purchase additional Chicklets if we wanted.  And why wouldn't we? They're awesome.  The beads come in a wonderful assortment of colors, with little flowers stamped on both sides. No one knew what color they would get – all part of the challenge and the fun of this hop.
I am a natural-born worrier and have had too many lost packages to put complete faith in the system. So, weeks before our beads were mailed, I went to Sue Bead's Etsy shop to look for a "just in case" bead. As in, just in case my actual bead got lost. It was difficult to choose from the many colors, but I was especially drawn to the metallic black with an iridescent finish. My metallic Chicklet arrived just a few days after I placed my order.
And then, as news of Chicklets arriving was showing up on Facebook feeds …I got an email from our hostess saying the bead she'd mailed to me had been returned as undeliverable. Because I am a doofus and misspelled my street name. Our hostess was kind enough to re-send my bead. Imagine my surprise when it arrived and I discovered it was a match to the one I had ordered!  Squeee!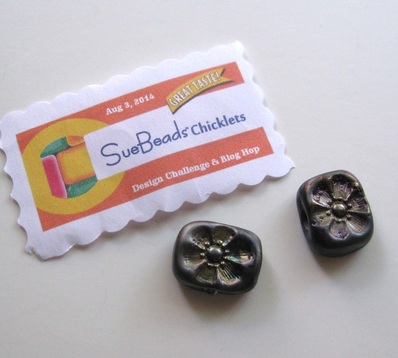 What could I do with two matching beads? Make earrings, of course. I love making earrings. The designs for them come to me so much easier than for necklaces or bracelets. And they are my favorite piece of jewelry to wear. I almost wired up a pair the day I received the second bead. But, through great force of will, I stopped myself.  And decided to design as if I had only one Chicklet.
I made this necklace using an antique brass finish dragonfly charm and chain, with purple Czech glass beaded accents. I was initially going to use gunmetal with this Chicklet, and maybe vitrail beads as accents. I had put it in a project box with those things and set it aside until I had time to work on it.
When I got around to working with it, I had just finished designing a necklace and earrings with Vintaj brass chain and charms. The leftover bits and pieces were still on my bead mat. They looked good with the metallic Chicklet, and brought out the purplish-bluish iridescence in the bead. Which made me think of iridescent dragonfly wings, which reminded me I had this antique brass finish dragonfly charm.  Et voila, a vintage-inspired dragonfly Chicklet necklace was born.
I was on the verge of making another necklace with my "spare" Chicklet, using the gunmetal color theme. But my muse was still in a brass and purple mood, so I went with it. And created this bracelet with more Vintaj chain and purple Czech glass beads. I added a few blue beads into the mix for this design, to augment the shimmer in the Chicklet.
This was the first time I've used chain in a bracelet and not loaded it up with beaded dangles or charms. I used to view chain only as a component for holding beads, rather than a design element on its own. I treated it like bead wire and covered it with beads.
When I entered my mixed-metal/steampunk/vintage-inspired jewelry designs phase last fall I started to embrace chains as part of the design. I'm also trying to embrace asymmetry in my jewelry designs. This bracelet is part of my journey to finding asymmetry that flows and isn't simply a lopsided design. I'll get there eventually.
I had so much fun creating with these beads. Many thanks to our hostess and our featured bead artist. Please visit their blogs, and the rest of the participants, to see all the lovely bead colors and wonderfully original jewelry designs. Thank you for stopping by. Before you leave, I hope you'll sign the guest book – a.k.a. leave a comment, in the space below the participant list.
Hostess
Toltec Jewels                                             www.JewelSchoolFriends.com
Guest of Honor & Featured Artist
Sue Kennedy                                                             SueBeads…A Beady Girl's blog
Participating Artists
Linda Anderson                                       http://fromthebeadboard.blogspot.com/
Jennifer Reno                                           http://jenrenjewelry.blogspot.com/
Shirley Moore                                          http://beadsandbread.blogspot.com/
Kristen Stevens                                        http://kristen-beadjourney.blogspot.com
Marybeth Rich                                         http://forestofjewels.blogspot.com
Jael Thorp                                                http://jaelsjewels.blogspot.com/
Melissa Trudinger                                     http://Beadrecipes.wordpress.com
Andrea Glick                                            http://zenithjade.blogspot.com/
Nan Smith                                                http://wirednan.blogspot.com
Blanca Medina                                         www.peru-medesigns.com
Shaiha Williams                                            http://shaihasramblings.blogspot.com
Carolyn Lawson                                       http://Carolynscreationswa.blogspot.com
Rana Wilson                                             http://Ranaleadesigns.blogspot.com
Robin Reed                                              http://willowdragon.blogspot.com
Robin Showstack                                     http://heartsdesiresjewelryforyou.blogspot.com/
Sheila Prosterman                                     http://catswithbeads.blogspot.com
Karla Morgan                                          http://Texaspepperjams.blogspot.com
Kari Asbury                                             http://hippiechickdesign.blogspot.com
Kelly Rodgers                                          https://www.facebook.com/BeadinBlackBlue
Jayne Capps                                            https://mamasgottodoodle.blogspot.com/
Mischelle Andrade Fanucchi                    https://micheladasmusings.blogspot.com/
Heather Richter                                       http://desertjewelrydesigns.blogspot.com
Chris Eisenberg                                       www.wanderware.blogspot.com
Kathleen Breeding                                   http://www.zibbet.com/99BottlesofBeadsontheWall
Linda Landig                                           http://lindalandig.wordpress.com
Crystal Thain                                           http://beaddragons.blogspot.com/
Cheri Reed                                              http://creativedesignsbycheri.blogspot.com
Heather d-Entremont                               http://frugalmadougall.wordpress.com/
Dini Bruinsma                                          http://angazabychanges.blogspot.com/
Lori Schneider                                         http://www.beadaddicted.blogspot.com/
Tammy Adams                                        http://www.paisleylizard.com/blog.html (you are here!)
Melinda Orr                                            http://bandanagirl.indiemade.com/blog
Lennis Carrier                                         http://windbent.wordpress.com/
Cynthia Machata                                     http://antiquitytravelers.blogspot.com
Elizabeth Hodges                                    http://thewhisperingseas.blogspot.com
Debbie Rasmussen                                  http://kepirasmussen.blogspot.com/
Tanya McGuire                                       http://tanyamcguire.blogspot.com/
Charlie Jacka                                          http://clay-space.com/blog/
Ev Shelby                                               http://raindropcreationsbyevelyn.blogspot.com/
Sharyl McMillian-Nelson                        http://sharylsjewelry.blogspot.com/
Jasvanti Patel                                        http://jewelrybyjasvanti.blogspot.com