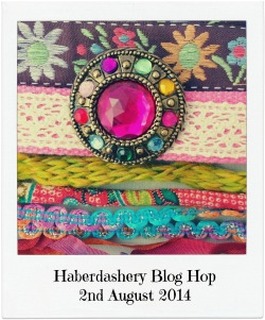 Welcome to the first Haberdashery Blog Hop, hosted by Melissa Trudinger. The participants are using fabric, buttons, ribbons, lace, and trims of all sorts to stitch, embellish, string, and create jewelry incorporating the goodies normally reserved for sewing and dressmaking.
Sewing, and more specifically making costumes, is one of my many creative outlets, in addition to designing jewelry. So you know I absolutely couldn't pass on this hop. I have boxes (I won't say how many) of fabric, rolls of ribbon and lace, handfuls of zippers, and the ubiquitous jar of old buttons. I haven't tried using any of these things in jewelry before, with the exception of this little button bracelet experiment from last fall.
I made the bracelet as a test. To see if I could manage a simple knotted piece, in preparation for a multi-strand button necklace I had planned to make with the contents of my button jar. The buttons are still in the jar. I got distracted by something shiny and didn't come back to them. This hop would have been a perfect opportunity to revisit that necklace plan. But I got distracted by tutorials for zipper flowers, fabric cuffs, and the like. I have the crafter's version of ADD. It's fairly common, I hear.
Anywho …I wanted to fully embrace the concept of jewelry made from fabric and trims so I started with a plan for a frilly flowered cuff made exclusively from things one would find at a haberdashery.
Sadly, the fabric glue I used to hold my trim in place left a stain. I know, I know, you're supposed to test it on an inconspicuous spot before smearing it all over the place. What can I say? I waited until the last minute to get started designing for this challenge and didn't have time to wait four hours (Yes, 4! As if.) for the test piece to dry. And wouldn't you know, it didn't stick anyway. [sigh]
I used ripped strips of fabric to make the rolled roses, using this tutorial. Beneath the roses, I layered red ruched ribbon over black ruffled ribbon on top of black lace. I added a fancy hook-and-eye closure for the cuff. I like the mix of textures and patterns and I have enough trim and fabric to try this again. I think I'll sew the layers together and skip the glue next time.
Up next, I wrapped a wood bangle in satin ribbon and a ripped strip of cotton fabric, using a design from the book Bohemian-Inspired Jewelry (©2012, Lorelei Eurto and Erin Siegel).  I think there were some steps missing in the instructions, or I was high on fabric glue fumes by then, because I totally could not understand how I was supposed to knot the thread and tie the beads.
There seemed to be a disconnect between the cord yardage given in the list of supplies and how to split it up in the instructions.  I improvised. Don't look too closely. They won't fall off, but they're none too neat.  I plan to cut that cord off and try again when I have more time to decipher the instructions.
I didn't want the buttons to feel left out of this adventure. I didn't have time to knot up that multi-strand million button necklace I started (in my head) last fall. But I did have time for a few pair of earrings. Yay, earrings!
I attached carved turquoise birds onto coconut shell buttons using copper wire. I added a red dyed howlite rondelle and put them on copper ear wires. I think I'll be wearing these often. They're very me.
I could make earrings all day, every day. In theory. In reality, there are cats to feed, laundry and dishes to wash, floors to sweep, etc. So, I settled for making one more pair for this hop. This pair uses wood buttons with a carved leaf pattern, paired with little red ladybug glass beads.
I have so many more jewelry design ideas from this challenge. For example, I really want to make a zipper flower and use it in a cuff. I had no shortage of zippers. Alas, they were all of the "hidden" variety, with itty bitty nylon teeth that matched the color of the zipper tape. The industrial chic effect works best when the teeth are big and metal, to contrast with the zipper tape.  It's on my shopping and to-do lists. I pinned links to dozens of ribbon and fabric flower tutorials. And of course, I do still want to make that multi-strand button necklace. Someday. Maybe for next year's Haby Hop?
Many thanks to our hostess for coming up with this fabulously fun challenge theme. Be sure to visit her blog, and the other participants', to see what wearable wonders they've made from buttons, trim, fabric, and more. Thanks for stopping by. Please sign the guest book — a.k.a. leave a comment — in the section below the participant list if the spirit moves you.
Melissa Trudinger   – hostess                      http://beadrecipes.wordpress.com
Ann Schroeder                                                 http://www.beadlove.wordpress.com
Tammy Adams                                                http://www.paisleylizard.com/blog.html  (you are here!)
Amanda Wacasey                                           http://mandyinmystic.blogspot.com
Dolores Raml                                                   http://craftydscreations.wordpress.com
Divya N                                                             http://www.jewelsofsayuri.com
Michelle McCarthy                                         http://www.fireflydesignstudio.BlogSpot.com
DiYana Brooks                                                 http://agapecreationsjewelry.blogspot.com/
Robin Kae Reed                                               http://willowdragon.blogspot.com
Andrea Glick                                                    http://zenithjade.blogspot.com/
Karin Grosset Grange                                     http://ginkgoetcoquelicot.blogspot.fr
Mitzie Crider                                                    http://needfulluxuries.blogspot.com
Janine Lucas                                                    http://www.esfera.me/travel/blog/travel-stories
Rosantia Petkova                                           http://bairozan.blogspot.com/
Susan Kennedy                                                http://www.suebeads.blogspot.com
Leithleach Alainn Seodra                             http://alainnjewelry.wordpress.com/
Kathleen Breeding                                          http://99bobotw.blogspot.com/
Shiraz Biggie                                                    http://secretsongdesigns.blogspot.com
Chris Eisenberg                                               http://www.wanderware.blogspot.com
Heather Richter                                              http://desertjewelrydesigns.blogspot.com/
Lennis Carrier                                                  http://www.windbent.net/
Rebecca Anderson                                         http://www.songbeads.blogspot.com
Jenny Kyrlach                                                   http://anafiassa.blogspot.com
Rita Toltec Jewels                                          http://www.JewelSchoolFriends.com
Mischelle Fanucci                                           http://www.micheladasmusings.blogspot.com
Karen Mitchell                                                 http://overthemoon-design.com
Carol Briody                                                     http://Cbriody.blogspot.com
Karla Morgan                                                  http://TexasPepperJams.blogspot.com
Carolyn Lawson                                              http://Carolynscreationswa.blogspot.com
Lori Anderson                                                  http://www.prettythingsblog.com/
Jami Shipp                                         http://www.celebratinglifewithdamamashipp.blogspot.com  Lili Krist                                                             http://pcbylik.blogspot.com/
Evelyn Shelby                                                   http://raindropcreationsbyevelyn.blogspot.com/
Raissa de Guzman                                          http://www.abloro.com
Niky Sayers                                                      http://silverniknats.blogspot.co.uk
Keren Panthaki                                                http://vasdea.wordpress.com