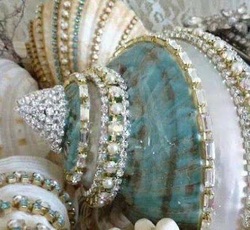 The "Blogger/Non-Blogger Challenge" is a round-robin event held on a Facebook group page, so that folks who don't blog can participate. It's sort of like a blog hop, but without the hopping. Participants post photos of their designs in a group album and any member of the group can vote on their favorites. The winner, by popular vote, becomes the hostess for the next challenge and selects the theme.
I recently participated in the 13th challenge, when the theme was "The Age of the Dragonfly." I created a collection of dragonfly-themed jewelry for that challenge. The winner, and our hostess for this challenge, was Rita of Toltec Jewels. Her challenge theme is a "Holiday in July" and she shared two theme images and colorways to inspire our creativity.
Inspiration image number one: Woodland Creatures
Rita said to "be inspired by the colorway, the sweet woodland creatures and Father Christmas, by winter beauty, woods, the Winter Solstice. Consider using art beads — many artists create owls, raccoon, birds, bunnies, mushrooms, squirrels, etc. Celebrate Christmas, Santa, childhood fun, Christmas eve, nature."
I immediately went to Etsy looking for woodland critter art beads. I found this adorable hand painted polymer clay squirrel focal from Gwyndion's Garden.  I adore watching squirrels. Okay, I adore watching wildlife in general. But squirrels are one critter I have a particular fascination with because there just weren't any where I grew up in the high desert of Arizona, and now I am surrounded by them in the urban mid-Atlantic.
I spent weeks thinking I would design a bracelet around my little squirrel. But I didn't actually sit down and think up a design. Suddenly, it was the weekend before the reveal and I hadn't started making anything. I sat and stared at my squirrel, surrounded him with beads of various colors, and nothing clicked. It was just not the right time for the squirrel.
On to plan B, which involved studying the colorway and pulling beads from my stash in those colors. It's a great earthy palette, with it's rich holly red, spruce green, bark brown, misty mauve, and shades of greige. I had a great selection of beads too. But much like the squirrel, nothing would click. Until I focused on the one color that was not prominent in the colorway, yet dominates the image: snow white.
When I look at the photo, not the colorway, I see snow-covered trees with spots of color, like the cardinals on the branches. I used frosty white matte crystal quartz beads that look like balls of snow.  I accented them with berry red Czech glass bead clusters on a gold leaf backdrop. Given the overall "holiday" theme for this challenge, gold seemed the appropriate choice of metal even though I rarely use it in my designs.
And then, just as I was getting this blog post ready, taking photos of the beads and earrings, I had an idea for the squirrel bead. I paired it with some green raku beads, flowers carved from brick red poppy jasper, and some mottled brownish-greenish agate diamond-shaped beads. I used copper spacers and a copper toggle clasp because I had a little copper acorn charm.
Inspiration image number two:  Sparkling Holiday
For this image, Rita asked us to "be inspired by the colorway, the sparkling elegance, Holiday party jewelry, Hanukkah, silver and gold, crystals, Solstice light. Consider using Swarovski & Czech crystals, pretty cup chain, lovely metals. Celebrate the Miracle of Light, gifts of silver and gold, beauty and glamour."
In this image I see soothing turquoise blues and greens, pearly off-whites, and pale greys, with lots of sparkle. I rounded up all my sparkly glass and Swarovski crystal beads, some creamy Swarovski pearls, and a trio of fun turquoise blue patinated metal sliders with faceted resin "gems" in the center. I was going to make a bracelet. The beads had other ideas and the bracelet became another pair of earrings. My beads were very strong-willed during this challenge overall.
For this pair of earrings I wired the metal sliders to leverback earwires via strands of pearls and crystals on silver wire. The Swarovski glass pearls are a gleaming off-white like the shells in the photo. The "light azore" Swarovski crystal rounds have an AB (aurora borealis) finish, to add to the sparkle and solstice theme.
Our hostess asked us to "consider what is the greatest gift of your life? Or, think of creating a gift for someone you love or want to uplift. Or, create for charity."   I'd have to say the greatest gift I've received is my parents, who chose to adopt me and then proceeded to spoil me and support me and make sure I grew up to be a self-confident woman.
I don't have children. Well, not the two-legged human kind. I am, however, the proud guardian of two pampered rescue cats that I adopted from PetConnect Rescue. So, in the spirit of this challenge, I will donate 100% of the list price from the sale of both pair of earrings, and the bracelet, to the fabulous animal rescue group that saved these sweet boys from the streets when they were kittens, and brought two very special cats into my life.  You can find these Winter Berries earrings and Sparkling Solstice earrings in my Etsy shop. The Woodland Squirrel bracelet is also available in my shop.
Many thanks to our hostess, Rita, for the inspiring images and words.  And thanks to you all for stopping by my blog.
If you want to see more winter holiday inspired designs, visit these other participants' blogs:
Dini Bruinsma               angazabychanges
Shalini Austin                 jewellerybyshalini
Sheila Prose          catswithbeads
Lee Koopman               StregaJewellry
Lili Krist                            pcbylik
Divya Narasimhan       jewelsofsayuri
Renetha Stanziono      lamplightcrafts
Veralynne Malone        designedbyvera