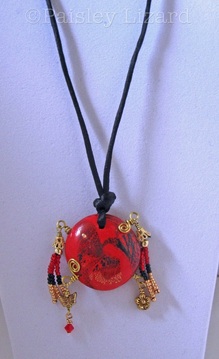 The theme for this week's challenge on the Self Representing Artists in Jewelry Design blog is the concept of "Kintsugi." Kintsugi is the Japanese art of repairing broken pottery in a way that not only embraces the breakage, but highlights it. Rather than trying to make the repair seamless and the broken piece look like new, the pieces are re-joined using gold dusted lacquer resin that makes the break a new design element. Silver or platinum dust are also sometimes used in place of gold dust.
I don't have any broken pottery in need of repair. I also don't keep gold, silver, or platinum dust on hand. Luckily, I've learned I don't have to be quite so literal in my interpretation of these design challenge themes. Not that I didn't briefly entertain the idea of smashing up a plate or cup so I could use it for this challenge. Breaking things on purpose is cathartic. 
What I do happen to have is a polymer clay bead I damaged when I was impatiently trying to drill a hole for stringing. Polymer clay can easily be drilled without breakage (unless it wasn't properly conditioned, which makes it inherently brittle), but you have to go slowly. Patience is not one of my virtues and when I tried to force the bit, it came out of the bead in the wrong place. I was trying to drill all the way through from one side to the other and, in my haste, I missed my exit.
The large arrow in the upper left is pointing to where the drill bit came out on the face of the bead, rather than along the edge where I was aiming. The smaller arrow bottom right is where I started.  The smaller bottom left arrow is where I made an additional hole, which also became part of my design for this challenge.  I managed to make it all the way from edge to edge with that bottom left hole, but you can't see the top right exit hole from this view.
This is a bead I made when I was working on a "fire element" design for a previous SRAJD challenge theme. I made a big batch of beads, with no particular design in mind at first, and this was one that didn't get used in my submission.  For today's design, I decided to string the bead from a hole at the top, which I also drilled before the photo was taken.
Next, I glued a small gold glass seed bead in the accidental exit wound. It may be a little difficult to see in the photo below due to the shiny finish of the bead. But if you look closely, you can see it poking up from the surface in the upper left.
I will note that I could very easily have repaired that misplaced hole with more polymer clay. With a little sanding and buffing, you'd never know the boo-boo had happened. However, the concept of kintsugi is all about making a flaw part of the design. So I glued on the small gold glass seed bead, which not only doesn't hide the flaw, it highlights it.
I glued some gold artistic wire wrapped loops into the two partial holes (the ones that didn't connect all the way through the bead) and added some small wire spirals to the loops through the connected holes.
In my research for this challenge I read about the Japanese philosophy of wabi-sabi, an embracing of the flawed or imperfect.  I learned that Japanese aesthetics value marks of wear and use on objects. Imperfection and asymmetry add interest to an object. In highlighting the cracks and repairs, kintsugi not only allows an object to continue to be of use, it increases the inherent beauty and value of the object. Now when people ask me why I keep broken things or don't replace my ancient wooden futon frame marked by almost two decades of beloved cats' claws, I can say I am embracing wabi-sabi.
As for my beautifully flawed bead, I turned it into a necklace as soon as the glue was set. I think I went a little over the top accenting the flaws. There are color-blocked beaded tassels (using more of the same golden seed beads as the one in the boo-boo), a gold flower charm, and a gold butterfly charm with it's own crystal beaded dangle. I was going for a sort of "beaded hair sticks criss-crossing inside a bun" look.
Because the bead was so elaborately decorated, I decided to simply knot it on black satin cording to complete the necklace.  What do you think? Is the pendant overdone? Maybe lose the tassels? Or add more? Or maybe I will turn it upside down so the tassels are at the bottom, attach some chain or cording to the top two loops, and add some beady embellishment to the hole where the satin cording is. I'm just not feelin' it with this one, and it's going into my do-over pile.
The next challenge theme for this month is the concept of recycling. I hope you'll stop by next week to see how I re-use and re-purpose in a jewelry design. To be sure you don't miss it, or any of my other jewelry design adventures, subscribe to this blog by RSS feed, email subscription, or feed servers linked in the right column under my photo. You can also follow me on Facebook, join me on Google+, and tune in to my Twitter feed to get updates on my newest jewelry designs, new listings in my Etsy shop, and other design challenges and adventures from Paisley Lizard.