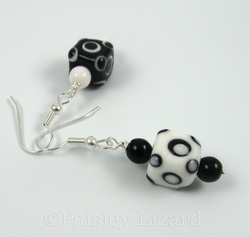 The theme this week for the Self-Representing Artists in Jewelry Design blog challenge is "opposites." We could choose any pair of opposites, from black and white, hot and cold, yin and yang, to arrival and departure, opulent and minimalist, happy and sad, etc.
I immediately thought of using black and white. And then I thought about colors that are opposite on a color wheel (red vs. green, blue vs. orange, yellow vs. purple). Then I went back to black and white. It's a classic. 
I rarely design in a solely black and white palette. I have made some all black jewelry. And some all white. I have also created a handful of pieces that combine black and white. These are some examples of past black and white jewelry designs.
Since it would feel like cheating to submit a design I already made, I pulled out my black and white beads and got to work designing a new piece.  One challenge in designing jewelry with only black and white is there's no color to distract from a bad design. When you take the brilliant blues, vibrant reds, lush greens, royal purples, etc. out of a design, you're left with composition as your focus.  So, you know, no pressure.
As you can see, I did not have a shortage of black and white beads from which to choose. I also had a small selection of black and white pendants and larger focal beads, not pictured. I think maybe I had too many choices. I sat and stared at all those beads for the better part of a day. Not continuously. I did some laundry, swept the floors, ran to the grocery store. Played laser tag with the cats. Ate chocolate. I was completely stuck for an idea.
Finally, I just grabbed some beads and started making earrings. I've read somewhere, probably more than one place, that when you have a creative block, the best way to break out of it is to just start making something. These simple, alternating colors, graduated sizes beaded drop earrings were where I started. I'm sure this design, or a variation of it, has been done before. That doesn't make these earrings any less elegant and versatile.
Next I made this pair of asymmetric drop earrings with some funky black and white spotted square glass beads. I bought them at the same time as the bumpy beads in the bracelet above. In a weird almost optical illusion effect, the black spotted bead looks smaller than the white one when they're side by side. It isn't. I measured. I guess it's true what "they" say: black is slimming.
I could have made black and white earrings all day. Or what was left of it. But it was time to get serious about this challenge. And stacking black and white beads on headpins just wan't going to cut it. Eventually, after pushing beads of various shapes and sizes around my bead board, I came up with this necklace. It combines faceted white Czech glass beads with jet black glass pointed oval (marquise) beads.
As I was writing this post, I realized this necklace could be considered a variation on the design in the first photo. It's a good design, if I do say so myself.  My friend's fiance thinks so too; he bought it for her at Christmas. And I have to assume the friend likes it as well because I've seen her wear it more than once.
Before putting my black and white beads away, I made one more necklace. I used a lotus pendant carved from black dyed "new jade" (that's a trade name:  it isn't real jade, it's serpentine). I went with a color blocked design, stringing the pendant on a strand of white mountain jade (another trade name, this time for dolomite marble) and blackstone (the trade name for a variety of stones that can be permanently dyed black) beads. I added two carved black amber (also known as jet) beads for accents.
You might be having deja vu about this design too. It's a variation of a necklace I created for another challenge a couple of months ago.  I bought this pendant after making that necklace, planning to do a black, turquoise, and red color block combination. Color blocking is a popular recurring fashion trend. In black and white, it's a timeless classic.
That's it for this challenge. I didn't stray outside the box or try a new technique. I re-visited a couple of design compositions that work.  And created fun new pieces that are very wearable in a "color" palette that would complement any outfit, even a bright or busy pattern. I'll just add: photographing black and white beads on a white background is a huge challenge.
The theme for next week's challenge is "communication."  I hope you'll come back here next week to see what my jewelry designs have to say. To be sure you don't miss it, or any of my other jewelry design adventures, subscribe to this blog by RSS feed, email subscription, or feed servers linked in the right column under my photo. You can also follow me on Facebook, join me on Google+, and tune in to my Twitter feed to get updates on my newest jewelry designs, new listings in my Etsy shop, and other design challenges and adventures from Paisley Lizard.