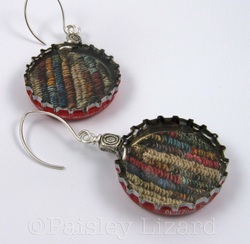 The theme for this week's Self Representing Artists in Jewelry Design blog challenge is the concept of recycling. We were asked to have "the overwhelming majority of your piece be from repurposed items, found objects, etc. …to push the recycle, reuse, repurpose angle …From subtle repurposing (taking beads from old jewelry and making them into a new piece) to extreme repurposing (taking something that would normally be thrown away and transform it into a piece of wearable art)."
The concepts of repurposing or recycling are not new to the arts and craft world. I bet you made a school art project or two from an egg carton, aluminum cans (or their tab tops), plastic six-pack rings, a plastic milk jug, an oatmeal can, a paper towel roll, or something else otherwise destined for the garbage. Maybe you even made a bracelet or necklace by folding paper gum wrappers into an interlocking chain? A creative person can find a new use for just about anything.
I had grand plans for this challenge. Plans to create amazing jewelry from the bits and pieces and odds and ends in my stash of "maybe I can make something with this" objects. What I did not have was any idea how to do that. So I started with something simpler: repurposing a broken necklace.
My friends and co-workers often bring me broken necklaces, orphaned earrings, and random beads. They know I'll put them to good use eventually. For this project, I used a necklace with a broken chain and clasp. I don't know what it looked like when it was whole, but it has an interesting assortment of metal charms and beads.
After I completely disassembled the necklace and sorted its pieces I saw several pairs of components that would make nice earrings.  I especially liked the filigree circles. I paired them with a couple of the faceted beads from the necklace and used silver-plated artistic wire to connect them to ear wires.
Once I got started making earrings from the broken necklace I couldn't seem to stop. In the end, I used all but one orphaned silver bead and completed three more pair of earrings. I even used the little bit of chain extender from the necklace clasp (for the beaded cluster earrings on the left). I didn't use the blue beads. I don't really care for the patterns on them. But I saved them, along with the two non-matching charms, for yet another re-purpose project in the future.
Turning a broken necklace into four pair of earrings fits the challenge theme. But it didn't seem like enough. I still wanted to make jewelry from something that didn't start out that way.
I rummaged around in my craft room and came up with some bottle caps. Then I grabbed some catalogs from my paper recycling bag. I cut circles from the pages of the catalogs to fit inside the bottle caps. Next I punched holes in the edges of the caps and glued a piece of wire inside.
I wasn't sure where I was going with this project at first, so I cut an assortment of images from the catalog. I coated each circle with multiple layers of Mod Podge to seal the paper. After placing the sealed paper inside a cap, I added resin. I used a UV-cure resin because this was a small project and I didn't feel like hassling with the mess of a two-part mix and stir.
I started out thinking I might make a bracelet. In the end, I decided on earrings. I'm so predictable. I love to make earrings. I guess it's because I tend to design what I like to wear. And I wear earrings every day. Even when I'm home alone. I don't feel dressed without them. This pair turned out pretty fun. And they're very lightweight.
Bottle cap earrings may not be the most original repurposing jewelry design you'll ever see. But it was a new thing for me. And now that I have tested the assembly process for turning bottle caps into charms, I think I might finally get around to making a bracelet. And more earrings, of course. Thanks to my friends, I have a small collection of interesting beer bottle caps. I don't know what brands a lot of them are, but they are fun colors and logos.
The theme for next week's challenge is the concept of opposites. I hope you'll stop by next week to see what direction I take that for my jewelry design.  To be sure you don't miss it, or any of my other jewelry design adventures, subscribe to this blog by RSS feed, email subscription, or feed servers linked in the right column under my photo. You can also follow me on Facebook, join me on Google+, and tune in to my Twitter feed to get updates on my newest jewelry designs, new listings in my Etsy shop, and other design challenges and adventures from Paisley Lizard.