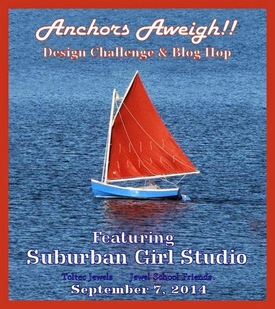 Ahoy mateys, mermaids, selkies, water sprites, and finfolk, and welcome to reveal day for the Anchor's Aweigh Design Challenge and Blog Hop.  Our hostess on this creative voyage is Toltec Jewels, who challenged us to design with our choice of sapphire blue or stormy seas green anchor charms hand made by our featured artist, Diana Ptaszynski of Subarban Girl Studio.
I couldn't decide which color anchor charms I liked better, so I bought a set of each. And while I was in Diana's Etsy shop, I picked up a strand of stoneware beads with a sailing motif.  There was plenty more in her shop by which to be tempted, but I somehow managed to limit my first purchase to this theme.
Here's a screen shot of some of the lovely and oh-so-tempting items in Diana's shop.
The anchors are sold by the pair.  If you know me, or you follow my blog, you know I have a thing for earrings. I wear them everyday, no matter what I'm doing or whether I even leave the house. They are also my go-to for jewelry making. I've probably made four times as many pairs of earrings as all my necklaces and bracelets combined.
I try to resist the urge to make earrings for design challenges, because I want to use the challenges as a way to stretch my creative limits.  I don't always succeed in resisting the earrings.  Spoiler alert:  I made earrings with my anchor charms.
The first pair of earrings, made with the lovely green "stormy seas" anchor charms, have green marble puff ovals and blue aventurine rondelles wrapped in silver wire. The green marble is a nearly perfect match to the glaze on the charms, and a fair representation of the color the sky can turn during a violent storm at sea.
I probably should have put a dark patina on the silver wire, to better match the little loops on the charms. But, I didn't. So, there. The lighter and darker flecks in the blue aventurine beads remind me of wind-churned waters at sea.
The second pair of earrings, featuring the dazzling sapphire blue anchor charms, incorporates a few other nautical symbols. These earrings have Tierra Cast pewter sparrow charms and blue goldstone stars on rope-edge silver chain. Anchors, sparrows, stars, and ropes are common in sailor tattoos.  I am a fan of tattoos, and the "traditional" kind have many ties to sailing and sailors. Even modern sailor tattoos incorporate these traditional themes.
In the Navy, anchors are symbols for a sailor who crossed (and returned from) the Atlantic.  Anchors are also a symbol for a Merchant Marine. As the object that keeps a ship in place, anchors are also symbols of unfaltering faith and reason for staying grounded.  Swallows were initially to represent first setting to sea. Now, they are common symbols for each 5,000 nautical miles sailed. Sparrows can also symbolize finding land or your way home, due to their migration patterns.
The North Star, which is often represented as a compass rose in tattoos, is believed to help sailors find their way home.  A small blue star on the ear could represent having made it around Cape Horn. Survive that dangerous passage twice, and get one for the other ear.  A rope knot means the sailor has crossed the Equator, International Date Line, Arctic and Antarctic circles. A rope around the wrist is the mark of having been a deckhand.
That's it for my anchor charm designs. But wait, there's a bonus to this reveal. Remember I said I also bought a strand of beads from Diana's shop?
This "Tropical Sailing" charm bracelet features the sailboat bead from that set. It's combined with reconstituted stone turtle beads dyed a similar shade of turquoise, and some copper Hill Tribes sea shell beads. The copper bracelet mixes plain and rope edge links and closes with a toggle clasp. In sailor tattoo symbolism, sea turtles represent crossing the equator. I imagine the tropical waters there are about the same color of turquoise blue as the glaze on the bead.
Thanks for stopping by and reading about my nautical jewelry designs. A big thank-you to our hostess, Toltec Jewels, for the inspiring theme. And to our featured artist, Diana Ptaszynski, for the gorgeous beads and charms.
Please visit the other participants' blogs to be treated to the wonderful variety of nautical jewelry designs using these amazing anchor components.
Hostess: TJ                               Jewel School Friends
Featured & Honored Artist:        Diana Ptaszynski
Diana's Blogs:                          Suburban Girl Studio and Art Jewelry Elements