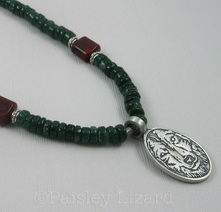 The fairy tale theme for this week's Self Representing Artists in Jewelry Design blog challenge is "Little Red Riding Hood."  As I mentioned for last week's challenge, Sleeping Beauty, I enjoy researching these weekly themes and finding jewelry design inspiration in the information I gather.
If you were here last week, you already read my short summary of what fairy tales are. If you missed it, here's the even briefer synopsis of the summary: short story with fantasy creatures, archetypal characters, and symbolism.  I focused on the symbolism for last week's design, and that's what I did again this week.
Because fairy tales and other folk tales often began as oral stories, passed down from generations and across borders, there is usually more than one version of any tale. And there are even more interpretations of the symbolism in a tale than there are versions of the story.  In the case of Red Riding Hood, or Little Red Cap (in some versions the girl has a cape, in others, it's just a small hat), there are some symbols common to most versions.
There's a girl or young woman (our innocent). A path through the woods to grandmother's house. A wolf (or werewolf). Oh, and the girl's cape (or cap) that is red. For my design, I'm narrowing that down further to: woods, wolf, red.
I haven't designed for the menfolk during any of these weekly challenges.  It's about time I remedy that, don't you think?  I vaguely remembered having purchased a wolf pendant earlier this year when I embarked on my grand plan to add a men's accessories section to my online jewelry store. So I went searching in my container of manly beads and components and found not one, but two pewter wolf focals.
The wolf mask focal fits the Red Riding Hood theme in a fun twist. In some versions of the fairy tale the wolf disguises himself as Red's grandmother. The whole "Grandmother, what big eyes you have." "The better to see you with, my dear." dialogue ensues, culminating in Red being eaten by the wolf. Which may, or may not, be the end of the story, depending on which version you read.
Initially, my plan was to use that mask focal for my design. But nothing I tried was working. I felt the scale was off and it needed a background to be made a larger focal overall.  I may play with it and some polymer clay to see what I can come up with at a later time. But since time was limited for this challenge, I moved on to the etched wolf face pendant. This pendant definitely has a more "big bad" vibe than the mask, which I actually think looks more like a fox.
Also in my masculine beads box was an assortment of green beads.  I needed some red accent beads for this design too. Those I found in my "regular" bead stash. Combining red and green beads in the same piece of jewelry can quickly equal "Christmas" design if you're not careful about the shades used. It's best to stay away from primary red and it's color wheel complement, secondary green. Unless you're going for the festive "Christmas" look, of course. Which I wasn't.
The green aventurine heishe in this necklace are a dark leafy green with a blue cast. The brick red brecciated jasper square beads are a little grayed and more sombre than a primary red.   I think the combination gives a "wolf stalking Little Red Cap in the dark woods " feel that is definitely not festive or Christmas-y. There are antique silver finish pewter rondelles surrounding the jasper accents, and the lobster claw clasp is also pewter.
The real question is:  is this design manly enough to be a men's necklace? The design is not fussy or busy, the lines are clean, the beads are an appropriate scale, the colors are suitably muted, and there's a majestic wolf in the center. What's not masculine about that?Here ends the story of my jewelry design for the Red Riding Hood challenge theme.
The fairy tale theme for next week is Rumplestiltskin, an imp who could turn straw into gold. I hope you'll stop by next week to see how I turn that story into a jewelry design. To be sure you don't miss it, or any of my other jewelry design adventures, subscribe to this blog by RSS feed, email subscription, or feed servers linked in the right column under my photo. You can also follow me on Facebook, join me on Google+, and tune in to my Twitter feed to get updates on my newest jewelry designs, new listings in my Etsy shop, and other design challenges and adventures from Paisley Lizard.