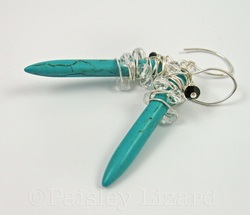 The theme for this week's challenge on the Self-Representing Artists in Jewelry Design blog is "Sleeping Beauty."  It's the first sub-theme in an overall "fairy tales" theme for the month of September.  One reason I enjoy taking part in these themed jewelry design challenges is because I get to do research.
Research is not a required part of the challenges.  I just happen to like to "look stuff up" and learn new things.  Sometimes what I research is a new jewelry design technique.  This week, my research was to re-acquaint myself with the Sleeping Beauty story and the meanings of fairy tales in general, for design inspiration.  My copy of The Complete Brother's Grimm Fairy Tales was my first stop; and then I was off to Google.
Fairy tales are a sub-genre of folk tales.  Many of them feature fantasy creatures like fairies, elves, giants, mermaids, and trolls.  The protagonist is usually an archetypal character:  the innocent, the orphan, the hero.  And the symbolism abounds.  Books have been written on the varied interpretations of the symbolism in fairy tales.  It's the subject of college courses and graduate dissertations.  Often the symbols are stand-ins for virtues and vices, and the short stories themselves are intended to advocate for virtues and caution against the consequences of vices.
There are many versions of the Sleeping Beauty fairy tale.  In some, there are fairies (the number varies) who gift a girl child (sometimes she has a name, but not always) with virtues or otherwise desirable qualities.  In those versions, there's usually an "evil" fairy who, having been slighted in some way, curses the child.  That curse is set to take effect on the girl's coming-of-age birthday and involves an encounter with a spindle, splinter, thorn, or some other pointy object.
On a whim, I bought a strand of reconstituted turquoise spikes a few months ago. You do know I have a bead habit, right? I buy beads for no apparent reason. Turquoise beads – natural, treated, reconstituted, imitation, glass, etc. – are my particular weakness.
These beads were made for this challenge. They're pointy, like a spindle or splinter. A pair of the medium length spikes became the focals of my jewelry design. The tops are wrapped in a tangle of non-tarnish silver-plated wire with faceted crystals.  The earwires are sterling silver.
There are seven clear crystals wrapped around each spike.  There are seven good fairies in some versions of the tale of Sleeping Beauty.  Their gifts to the girl may represent the seven virtues:  prudence, justice, temperance, courage, faith, hope, and charity.  There's a jet black Swarovski crystal bicone dangling from each wrapped spike.  The evil fairy's curse may have represented vice in general, or a specific vice like disobedience or curiosity.
If you read the Sleeping Beauty fairy tale, or just watched the Disney movie version, you know the girl's parents went all out to keep her away from spindles, splinters, or whatever sharp pointy objects would trigger the curse.  She went exploring (curiosity) and ventured into a place her parents forbade her to visit (disobedience).  Bad things happened.  I don't want to spoil the ending, just in case you haven't seen the movie or read the book.  Let's just say whether Sleeping Beauty lived happily ever after with the man of her dreams depends on which version you read or saw.
That's the end of my story about this week's jewelry design challenge for the Sleeping Beauty theme. The fairy tale for next week's theme is Red Riding Hood.  More symbolism. More cautionary tales.  More original jewelry designs.  I hope you'll stop by next week to see how I translate that fairy tale into a jewelry design.
To be sure you don't miss it, or any of my other jewelry design adventures, subscribe to this blog by RSS feed, email subscription, or feed servers linked in the right column under my photo. You can also follow me on Facebook, join me on Google+, and tune in to my Twitter feed to get updates on my newest jewelry designs, new listings in my Etsy shop, and other design challenges and adventures from Paisley Lizard.