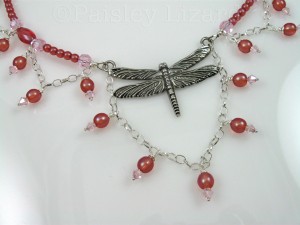 The theme for this week's Self-Representing Artists in Jewelry Design blog challenge is Edwardian era, or the cable television show Downton Abbey. We were to create jewelry inspired by this era, or as it is represented in the show.
I've never seen the show, but thanks to the magic of internet searches, I could find images of characters from it, even some showing their jewelry. I could also find images of and details about Edwardian-era jewelry in general.
According to my source (let's call him Google), jewelry designs of the Edwardian era were characterized as ultra-feminine and constructed primarily with diamonds and pearls set in white metals like platinum and silver. This site states Edwardian-style jewelry could also be referred to as "garland style" due to the use of floral motifs in graceful lace-like airy designs. One of the more popular Edwardian necklace designs was a collar with swags, bows, or tassels.
I don't use platinum or diamonds in my jewelry designs. Not only are they out of my price range, they're not my style. Don't get me wrong. They are all kinds of sparkly and pretty and I wouldn't turn down a platinum anything. It's just that I'm more rustic, earthy, bohemian in my style. I do use sterling silver, although these days I prefer it patinated or darkened with liver of sulfur. And I don't use real pearls, or any other components derived from animals.
For a moment I was stuck, thinking I couldn't make anything for this week's challenge. And then I reminded myself, my jewelry design doesn't have to be a literal copy. It's just supposed to be inspired by the theme. It seems I have to remind myself of this with every challenge. "Inspired by, Tammy. Not a replica. Inspired." Phew.
A while back I created a necklace with pearly swags that could have fit the bill for this challenge. It was for the 8th Bead Soup Blog Party and used a bunch of white glass pearls accented with red glass beads from the bead soup mix I received. The focal was also part of my soup mix.
I could have submitted this necklace and used the time I would have spent coming up with a new jewelry design doing something "productive" like mopping the floor. But in addition to being a master at constructive procrastination (in which you do something constructive that's more fun than the less-fun thing you're supposed to be doing), I participate in these weekly design challenges to push myself. Submitting something already made would have felt like cheating. So, I sat down with my beads and my muse and we got to work. This is what we came up with. I took my inspiration from the basic necklace shapes and patterns more than the materials and colors of the era.
This lacy pink dragonfly necklace is something I initially began for a different design challenge. That challenge had a dragonfly theme and I created several pieces for it but this necklace didn't come together the way I wanted. It's been sitting in my do-over box for months. It began as two separate strands:  the beaded one with the dragonfly at the center, and a length of chain with those beaded droplets. It didn't hang properly no matter how I adjusted the lengths or which strand I used on top.
When I took it out and looked at it with my Edwardian-inspired images in mind, I finally had an idea for how to make it work. I shortened the overall length to something slightly longer than a choker so that the beaded swag dangling below the dragonfly could accent but not get lost in cleavage. I took the single length of chain apart and strung smaller sections on the main strand to create multiple swags. A couple of the beaded drops got orphaned in the process, but were added as small drops at the shoulder points of the new necklace.
These peachy-pink Czech glass beads (labeled apricot in the package) and pink fire-polished crystals are decidedly not white, nor do they resemble diamonds or pearls. And yet, they do give this necklace a very feminine glow. The silver-plated chain swags with their delicate pink droplets resemble the lacy airy style of Edwardian-era necklaces. I think this design captures the essence of the Edwardian jewelry designs by which it was inspired.  I'd love to hear what you think so go ahead and leave a comment below.
And be sure to stop by next week to see what kind of jewelry design I create for the fantasy theme inspired by "Road Warrior or post-apocalyptic" era. That's one of my favorite movies but I'm not sure that will make the jewelry designing challenge any easier.
To be sure you don't miss it, or any of my other jewelry design adventures, subscribe to this blog by RSS feed, email subscription, or feed servers linked in the right column under my photo. You can also follow me on Facebook, join me on Google+, and tune in to my Twitter feed to get updates on my newest jewelry designs, new listings in my Etsy shop, and other design challenges and adventures from Paisley Lizard.