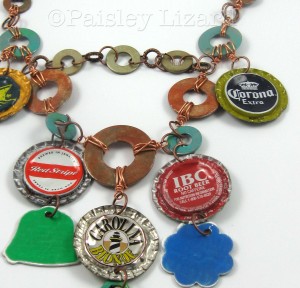 This week's challenge on the Self-Representing Artists in Jewelry Design blog was to design jewelry inspired by the movie "Road Warrior" or an imagined post-apocalyptic era in general.
The Mad Max movies are among my favorites, in no small part due to the Australian accents. And then there's that menacing black supercharged Ford muscle car and all the high speed chasing. I don't remember much about jewelry from those movies. With one exception.
I distinctly remember the humongous hoop earrings worn by Tina Turner as Aunty Entity. Talk about statement jewelry. I think they actually go over the tops of her ears, which is probably wise for earrings that size. Unless you're going for the stretched lobe look.
Movies set in post-apocalyptic or otherwise dystopic worlds are among my favorite genre in general.  I don't know what it is about dystopic future societies I find so engrossing, but they dominate my DVD collection. And yes, that includes the Mad Max trilogy, which I had to re-watch as research for this challenge.
In the Road Warrior version of a post-apocalyptic era, resources like food and fuel are scarce. And people who know how to make machines run, or how to build new things, are also rare. When things break down, they tend to end up abandoned. I imagine people would still wear jewelry, because the urge to adorn is as old as mankind. But it would likely be made from assemblages of found objects rather than new components. And those objects would most likely be things that had no practical value or use for one's survival.
This "post-apocalyptic" necklace is made with an assemblage of flattened bottle caps, metal washers, a key, soda (or pop) can tabs, copper wire, faux leather, and a charm from a broken necklace.
The bottle caps, which I quite enjoyed smashing, were from the collection given to me by friends. I sent out a call earlier this year, intending to use them to make cabochons. Some were bent from the bottle opener, so they wouldn't work to hold resin. But they worked great for this design.
The green bell and blue flower charms are expired rabies tags. The blue charm overlaying the key is from a broken necklace that I repurposed into several pairs of earrings for a previous jewelry design challenge. I think it looks a bit like an "evil eye" and seemed to fit the theme.
The soda can tabs were used as connectors, joining the wire-wrapped washer assemblage to the strips of faux leather. Another (this one from a soup can) was used as a clasp, paired with a rustic wire wrapped bar.
The washers and the key were given their aged and oxidized look using Vintaj patinas. This project was my first time using them and I painted about twice as many washers as I ended up using. Because I love to paint things. I also played with Iced Enamels on a few of the washers and one key. They didn't make it into this necklace, but I'm sure I'll find a project for them down the road. And I'm sure I'll be trying the out on more metal objects.
In the Mad Max movies there's a lot of black leather, chains, spikes, and studs. At least, that's the "bad guys" fashion statement. The people just trying to survive don't wear much, or any, jewelry. But if they were able to take time out from searching for food, fuel, and shelter (while avoiding the leather-clad gangs) to make jewelry, I think it could look something like my assemblage necklace. What do you think post-apocalyptic jewelry would be like?
The challenge for next week is to design jewelry inspired by The Lord of the Rings movie, or an otherwise elvish/medieval style. I hope you'll stop by to see what I come up with. To be sure you don't miss it, or any of my other jewelry design adventures, subscribe to this blog by RSS feed, email subscription, or feed servers linked in the right column under my photo. You can also follow me on Facebook, join me on Google+, and tune in to my Twitter feed to get updates on my newest jewelry designs, and other design challenges and adventures from Paisley Lizard.