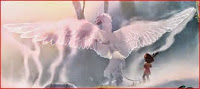 The  inspiration for this month's We're All Ears challenge on the Earrings Everyday blog was a short animated film about a mystical creature and a young girl.  I'm no kind of film critic, so I can't say why I was so enchanted by this short film. All I can say is, much like our hostess, I'd love to see this made into a full-length feature.
The story takes place in a forest, so there's lots of nature images and colors by which to be inspired. And I do love earth tones for my jewelry. However, I was more inspired by the misty white-winged mystical creature that came to drink from the well where the little girl was filling a bucket. 
Initially I wanted to use polymer clay to make some translucent white feathers or wings as the focals for my earrings. But time got away from me and before you know it, I had to come up with a plan B. I rummaged through my stash and found some wing and feather charms. Then I grabbed my boxes (yes, there's more than one) of white beads, some  wire and some chain.
This first pair of earrings is a very simple design. The silver wing charms are connected to crackled matte crystal quartz beads. I'd like to say I made the sterling earwires – because that would mean I've actually started using the tumbler I bought this summer – but in fact I bought them years ago from an artisan on Etsy. She calls them "elfin" or "pixie" or something else whimsical, which I love.
The next pair of earrings I made uses some silver-colored feathers and a chandelier connector. I don't know what metal the charms are made from other than not sterling silver. They were in a large box of miscellaneous beads and tools I received from some friends in support of my bead habit.  The feathers are wire-wrapped to the antiqued pewter chandelier connectors via white fiber optic (a.k.a. "cat's eye") beads. The connectors are attached to silver-plated earwires with a clear aurora borealis bead. I think they look a bit like dream-catchers.
The final pair of earrings are a mixed-metal composition. The assorted shapes and sizes of wing charms are a mix of antiqued silver, antiqued copper, and antiqued brass colored pewter. They are dangling from antiqued copper chain on antiqued copper leverback earwires.
I'd like to thank our hostess, Erin Prais-Hintz of Tesori Trovati, for yet another fun and inspiring theme. I'm looking forward to what she comes up with for the next monthly challenge. In the meanwhile, I'll be stopping by the Earrings Every Day blog, um, every day, to see the latest earring designs being shared by our hostess and other featured artists. Oh, but first, I'll be visiting the blogs of the other folks who are taking part in this week's challenge. You should join me. Plenty of eye-candy to go around.