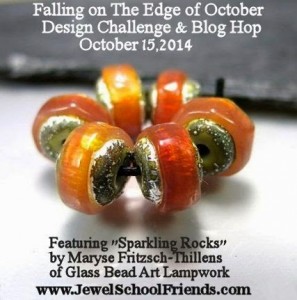 It's reveal day for the "Falling on the Edge of October" jewelry design challenge and blog hop, hosted by Toltec Jewels.
The challenge was to create something with one of the orange "sparkling rocks" lampwork beads made by the featured artist, Maryse Fritzsch-Thillens of Glass Bead Art Lampwork. That's a photo of them there on the left in the blog hop badge. Aren't they divine? Our hostess sent each participant a bead and then it was up to us to create jewelry.
This is the third time I have been fortunate to participate in a design challenge hosted by Toltec Jewels.  My first one was the Choosey Chicks Choose Chicklets challenge in August, followed by the Anchors Aweigh challenge in September. They were both such fun I couldn't wait to sign up for this one.
As soon as I received my delicious orange bead I went through my stash looking for coordinating or accent beads in fall colors. I had plenty to choose from, being a bit of a bead hoarder.  But none seemed to do justice to the gorgeous art bead. I decided to make some beads to go with it. Sadly, I am not a lampwork artist, so I couldn't create glass beads. Fortunately, I am somewhat proficient with polymer clay, which can be mixed in any color and formed into any shape imaginable.
There were so many options for designing fall colors jewelry around this vibrant orange bead. I decided to go with an analogous color theme, using more orange, some red-orange, and a touch of yellow.
In addition to the featured lampwork bead, which I put in the center of the bracelet design, and my handmade polymer clay beads, there are some frosted glass beads in a sort of cranberry red. The spacers are pewter, to coordinate with the silver in the lampwork bead. The bracelet is finished with a silver twisted vine toggle clasp that has a pewter beaded dangle with a leaf pattern.
Before I received my orange sparkling rock bead, I visited Maryse's shop on Etsy. I was immediately tempted by a set of beautiful turquoise blue and sandy brown lampwork beads. So, I bought them. And while they were on their way to me from Luxembourg, I went back to Maryse's shop one day, just to look. Wouldn't you know she had re-stocked and added some sparkling rocks beads in shades of blue and aqua that would coordinate perfectly with the beads I bought previously?
I didn't use them for this challenge, because they're not fall colors. (Although they would look nice with a punch of orange.)  They could be winter colors. For frosty blue winter jewelry.  Or maybe they're summer colors. Sparkling blue waters by the beach jewelry. You'll have to stay tuned here to my blog to see what I design using these stunning beads. You can also follow me on Facebook or on Twitter for news about my latest jewelry designs.
In the meanwhile, be sure to stop by these other artists' blogs to see what they designed with their orange sparkling rocks.