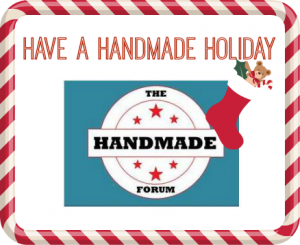 Members of the The Handmade Forum are blog hopping to help you find the perfect handmade gifts for everyone on your holiday shopping list.
The Handmade Forum is an international group of artisans and small business owners dedicated to showcasing, supporting and promoting handmade designs and sellers.
Today is also Small Business Saturday and we'd like to encourage you to "shop small" by supporting the artisans of The Handmade Forum.
Here are a few handmade gift ideas from the featured shops of this blog hop.
But wait. What's a blog hop, you ask? If you're not familiar, it's a virtual party of sorts. Participating bloggers publish posts on a common theme – like buying handmade gifts for the holidays – and then we all hop around to share the love by leaving nice comments on the posts and by sharing them on our social media. Everyone is invited to participate and do the same, whether you have a blog or not.
There are a lot, and I mean a LOT, of jewelry shops on Etsy. And not all of them offer truly handmade products. Even fewer offer unique artisan pendants, earrings, bracelets and rings individually cast and crafted from sterling silver or copper with precious and semi-precious stones. If you're looking for heirloom quality handcrafted jewelry, you should stop by DixSterling's Etsy shop. If you don't find exactly what you're looking for, Dix will work with you to create a beautiful custom design, like this beautiful pair of birthstone earrings.
Is there a tea lover on your shopping list? You will find a delightful assortment of hand-blended teas made using organic and ethically wild-crafted ingredients at Desert Sage Natural's Etsy shop.  With flavors including chocolate, chai, mint, jasmine and more, you'll surely find something for everyone, including yourself. And if your tea lover is also a bit geeky, they've got Whovian and Firefly-themed blends.  If you can't settle on just one flavor, you can get one of the many sampler and gift sets like this chai gift set with seven hand-blended flavors sure to delight.
And while we're on the subject of natural things, who wouldn't love some natural skincare products? If you're looking for organic skin care products carefully handcrafted in small batches, stop by Flaherty Naturals' shop on Etsy. There is a wonderful assortment of soaps, lotions, oils, scrubs, and salts, not to mention herbal tinctures and dried herbs. And for the menfolk on your list, there are aftershave balms and shaving soaps. My personal favorite this time of year, to combat the effects of cold dry air, are lip balms and salves like this vanilla sugar lip scrub and balm.
Are you looking for elegant special occasion jewelry made with sterling silver and natural gemstones? You will find a dazzling selection of earrings, necklaces and bracelets in StellaZiganti's shop on Etsy, as well as the option to work with the artist for a custom design. She uses natural gemstones in every color of the rainbow, paired with sterling silver or copper, to create delicate and ultra-feminine designs like this pair of sterling silver earrings dripping with dozens of natural amethyst beads.
Did I mention there are a lot of jewelry shops on Etsy? Here's one that stands out for specializing in hand-embroidered friendship bracelets.  No matter what color you're looking for, you will find it in Bracelets by Jen's Etsy shop. She also offers macrame awareness bracelets. Her prices are quite affordable so if you can't choose just one color, or you need to shop for a group, you can easily stock up on stocking stuffers like this colorful pink, purple, and yellow design.
And speaking of stocking stuffers, don't forgot the teachers and administrative professionals on your list. Or anyone who appreciates unique office supplies like the decorative thumbtacks, push pins and magnets in Lorraine Inspired's Etsy shop.  She has a spectacular selection of handpainted wooden thumbtacks and pushpins, clothespin magnets, bottle cap magnets, keychains, and even earrings. These ocean-theme magnetic blocks would be perfect for the nature-lover on your gift list.
And in case you didn't already know, I sell jewelry on Etsy too. Look for Paisley Lizard Designs shop on Etsy for handmade jewelry that ranges from rustic to elegant, and always one-of-a-kind. I even offer cuff links and accessories for men. If you're not in the market for jewelry, maybe you need a keepsake ornament handcrafted from polymer clay.
If you can't check off everyone on your list after you've visited these shops, stop by The Handmade Forum's page on Etsy and browse any of the collections. We have gathered together guaranteed handmade items for him, for her, for home, for baby, for special occasions, by color, and more.
You can keep up with the latest news on sales and other events from members of The Handmade Forum by following us on Facebook. You can also follow us on Twitter for updates about our latest products and other handmade news. If following newsfeed is not your thing, we have a Pinterest board where we share our latest handmade items.
Please visit the other participants' blogs for more fabulous handmade gift ideas. And leave them a comment to let them you know  you stopped by.  We bloggers love comments (of the non-spam variety).