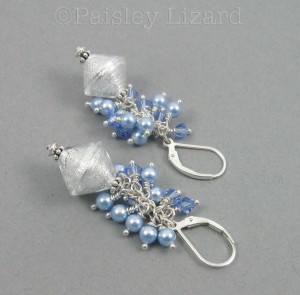 This week's challenge theme on the Self-Representing Artists in Jewelry Design blog was to design "elegant" jewelry.
When I think of elegant jewelry, I think of pearls and precious gemstones like sapphires in simple settings that are not overly ornate. I tend to work with semiprecious stones like turquoise and jasper, and my designs lean more toward rustic. But that doesn't mean I can't pull off "elegant" when the occasion calls for it.
I have a special fondness for loooong dangle earrings with beady embellishments. Here are a few examples of earrings I made a while ago, long before this challenge, that I'm certain could hold their own next to the most elegant of evening gowns.
For this week's design challenge, I wanted to use some winter colors. I had been hoarding a pair of frosty white Venetian bicone beads I bought at the same time as the focal beads in the teal and red earrings. I held onto them because I couldn't decide what color to pair them with. Then, a few days before the challenge deadline, I was channel surfing and landed on the Disney movie Frozen. Finally, I had my color palette.
Unlike the other earrings I made with the Venetian glass beads, where the focal was on the top of the earring, I decided to use these frost white beads as the bottom dangle. They are wire-wrapped onto delicate sterling silver chain suspended from sterling silver leverback earwires. The light blue beads cascading down over the frosty white beads are a combination of Swarovski glass pearls and crystals.
I think these beaded dangle earrings are elegant enough for an ice princess. They'd also be lovely as a touch of "something blue" for a bride. Don't you think?
Next week's challenge theme is "modern" jewelry designs. If I made it recently, as opposed to 30 years ago, that's modern right? Maybe I need to do some research. I hope you'll stop by here next week to see my interpretation of modern jewelry design.  To be sure you don't miss it, you can subscribe to my blog by email in the box on the right sidebar. You can also follow me on Facebook or get my Twitter feed to keep current on my latest jewelry designs and other creative adventures. Remember you can browse my online store any time you're looking for handmade jewelry.