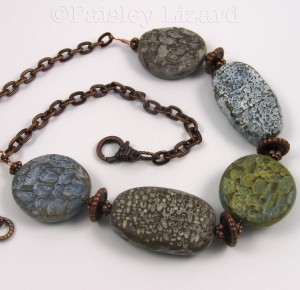 This week's challenge on the Self-Representing Artists in Jewelry Design blog is to design jewelry in the "organic" style category. The label "organic" means something slightly different in jewelry design than it does in farming and food production. For one thing, there's no clear definition of what organic jewelry style is, but there are legal definitions of organic for agriculture and food products.
As far as I can tell from my not too extensive internet searching, organic jewelry can be jewelry that is made exclusively from or incorporates natural materials like carved wood and seeds. It can also be jewelry designed with shapes that evoke a sense of nature, like leaf- and flower-shaped components. Or, it can be jewelry that looks almost alien, with abstract shapes and textures from the imagination of the artist, but still inspired by nature.
I'm not great at abstract jewelry design. One of the previous challenges this year was to design jewelry inspired by the abstract painter Piet Mondrian. I took my inspiration from his colors more than from the abstract concept itself. For this week's challenge I decided to not attempt abstract organic jewelry design. Which left me to decide whether I would make jewelry with natural components, or use components in natural or organic shapes.
I happen to have made some sort of organic beads earlier this year when playing with spices, polymer clay, and this tutorial.
I choose a few of the more free-form shapes, and combined them with copper beads and chain. The rough shapes remind me of nuggets of rock.
After the necklace was all put together I started second guessing my design. I thought it might look even more organic if I used faux leather in place of the chain. Sadly, the pieces I had in my stash were not any colors that looked right with the beads.
Speaking of the beads, they're reversible. They all have the same combination of front and back patterns. I just prefer the look of them alternating.
I also went outside for inspiration for this challenge. I picked up a few fallen leaves and made impressions in polymer clay. Two of those pieces are waiting to be finished. You'll have to check back another day to see them. This one I brushed with mica powders in gold and copper. Unfortunately, it has a small crack because I bent it when it wasn't fully cured. I think I can repair it, just not in time for this jewelry design challenge deadline.
That's it for my organic jewelry designs. The theme for next week is "elegant" style jewelry. I'm not exactly sure what defines that as a jewelry style category so I'm off to do some research. I hope you'll stop back next week to see what I learned and what I designed. You can follow my blog by email or subscription to make sure you don't miss the next exciting adventures of Paisley Lizard.
Edit: Comments were submitted on this post while my website was in transition. Posting as a screen capture. Sorry, the links aren't live.