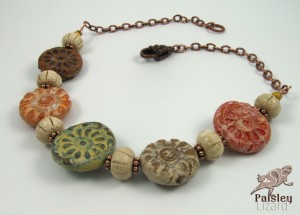 The theme for this week's Self-Representing Artists in Jewelry Design blog challenge is "rustic." Finally, something I know.
Usually before starting my jewelry design for these weekly challenges I have to do some research into the theme. Rustic is something I think I know. It's my jewelry design comfort zone. But just to be sure, I did a Google search. 
Rustic in jewelry design is not necessarily the same as the dictionary definition of the term. The word itself means things like "of or relating to the countryside" (where the sheep herds roam), "simple, artless, or unsophisticated" and even "uncouth, rude, or boorish." Ouch. That's not what ever comes to mind when I think of rustic jewelry designs.
When I think of rustic jewelry, I think of oxidized metals, rough cut stones, designs that are simple and casual. I'm pretty sure that's what other people think too. The "rust" in rustic jewelry comes from actual, well, rust. As in the oxidation and patina on metals that gives them an aged and distressed look. And it can come from lines and edges that are worn and weathered rather than polished and smooth.
So, of course I had to break out some of my "rustic spice" polymer clay beads made earlier this year. I already used a few of them for my "organic" design challenge earlier this month. (There can be a very fine line between organic and rustic, or, in my case, a fusion of styles.)
I pulled a handfull of the rustic spice beads (they have actual spices in the polymer clay) with flower-ish patterns from my stash. I knew I wanted to pair them with some oxidized textured copper chain. But they needed some spacers. Since I couldn't find any beads in my stash that were the right size, shape, or color, I baked up a batch of little fluted edge rondelles using an offwhite polymer clay mix. After the rondelles got a little distressed paint treatment, they were just what I wanted.
If you compare the two photos above, you'll notice the beads don't look quite the same. It's not two different necklaces. The beads have different front and back patterns. They can be flipped depending on which sides you want showing.
The clasp is oxidized copper, to match the textured copper chain.  It has a raised flower design, which makes a nice coordinating detail for the back of the necklace.
I love this necklace. Of course I would, right? But I mean really, really love it. I put it in my online jewelry store, but only after debating with myself about parting with it. I can definitely make more rustic spice beads, but no two are alike due to the process used to create them. So there will never be another necklace like this one.
I could design rustic jewelry all day. Some days I do. But this earthy fall colors necklace is it for me for this week's jewelry design challenge. The theme for next week is "botanical" which is actually one I suggested. And no one said my botanical jewelry couldn't be rustic. So, who knows what I will come up with. I hope you'll stop by next week to see what I design. Be sure to sign up to follow my blog (see the options in the right side bar) so you don't miss it. You can also follow me on Facebook or follow me on Twitter to keep up with the latest jewelry designs and creative adventures of Paisley Lizard.