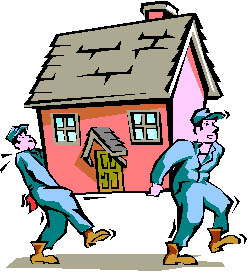 If you're considering moving your blog from Weebly to WordPress, and you're not a code geek, I'm here to tell you it can be scary. But, just like any kind of move, having some hired-muscle can make all the difference.
I recently transitioned my blog and the rest of my website from a Weebly platform to WordPress. I did not do it on my own. I wisely sought help from a consultant. I'll tell you more about that in a minute. But first, let me tell you why I moved.
When I started my blog I could have chosen to set up with WordPress from the beginning. Why didn't I? And why did I later decide to switch? The answer to the first question is, frankly, laziness. I didn't do a sufficient amount of research or consider how I wanted my website to grow. And Weebly's Drag and Drop site builder is fairly easy to use "out of the box" whereas WordPress has a slightly steeper learning curve.
I was more or less happy with the look and functionality of my blog and the rest of my website on a Weebly platform. I got comfortable with the drag and drop system and the dashboard pretty quickly. I managed to find a template I could modify enough that I could live with it. But here's what eventually prompted me to start looking for an alternative:  spam.
I was getting more spam comments on my blog than legitimate comments. Many of them from the same email addresses. Yet no matter how many times I marked them as spam, Weebly let them right back in to comment. I had to turn the comment moderation on and manually approve every comment. Which I could have lived with. Were it not for the fact that more than half the time, I wasn't getting notification that comments were submitted. Or comments I approved just evaporated. Enough was enough.
After doing the research I should have done in the first place and talking to a few WordPress users, I decided I needed to make the move. WordPress has plug-ins that do a far better job at handling spam. Having decided where to go, the simplest thing then would have been to trash my website's content, install WordPress and start from scratch.
Every time I have had to move residences (which was almost annually in college and grad school) I have fantasized about leaving everything but the four-legged family members behind and just buying all new stuff (to be delivered) to the new place. I hate packing. And unpacking. And pretty much everything about moving. Even hiring movers to pack (and carry) everything last time didn't eliminate the stress.
As tempting as starting from scratch and avoiding the stress of a move seemed, I didn't want to lose what little SEO ranking I may have accrued for my site. And I definitely didn't want to lose all the lovely comments on my blog. So, packing and moving it was. Enter the hired-muscle.
Because she strikes me as a sensible intelligent woman, I admire the look of her website, and I have read her comments about how fantastic her "web guru" is, I contacted Ginger Davis-Allman of The Blue Bottle Tree to ask if she thought her guru would be interested in a small job. Luckily for me, Gary Allman (yes, Ginger's web guru is also her husband) of Davis-Allman Business Development was willing to assist me.
Gary did all the heavy lifting, starting with figuring out how to preserve all of my blog comments, and ending with trouble-shooting the installation of my new pages. In between, he hosted a copy of my site, which gave me time and space to get up to speed in WordPress. He gave me a crash course in css and pointed me in the direction of other resources, so I could learn how to edit the look and function of my pages. When I got stuck on a few things (css is more an art than a science, he says) he leapt to the rescue with just the right syntax. He showed me how to create a "child theme" and install plug-ins and other nifty things about WordPress.
My site is still a work in progress. I've got it to the point where it looks even better than my Weebly site (that's my opinion, anyway) and I have the tools to keep making modifications as I learn more css, html, and maybe even php. I could have given Gary a list of all the things I want changed and he would have made it just perfect. But as truly lovely as it was to work with him (Did I mention he's got a charming accent?) I want to be able to manage my site long-term. So, he did the parts I hope never to have to figure out again (I'm not moving from WordPress, and you can't make me) and gave me tools to manage the rest.
There's just one thing I wish I had done before we trashed my old site. I should have posted a blog letting people know it was happening. Because while my new home on the web looks a lot like my old one, the address is slightly different. So, all those wonderful people who were following my blog by rss will now be seeing a "404 page not found" error. Luckily, it's got my banner and a search box to help them find me. But still, I should have sent out my forwarding address before I turned in the keys to the old place.
When I said in the beginning that the move from Weebly to WordPress could be scary, that's when I was researching what was involved. There are tutorials. They didn't make much sense to me. And what bits I could understand made me certain I would end up with nothing but a bunch of broken links and mangled pages. That was before talking to Gary. Once he was on the job, all my anxiety disappeared. Sure, I lost some blog followers, I have to start over building up my blog stats, and all the old links to my blog on Facebook, Twitter, etc., go to an error page. That's the cost of moving. But my website didn't crash, most of my post comments survived the move (some of the recent ones were lost because they were submitted after my site was "packed" for the move), and I now have a website with oodles more functionality and options.
If you're contemplating a website or blog, I strongly suggest you start with WordPress. If you're contemplating moving your blog or website, and you don't have your own web guru at home, I recommend Gary, without reservation. (Ginger is indeed a wise woman to have her own web guru.)
P.S. You can subscribe to follow my blog by email or the other options in the sidebar. I usually write about jewelry designs, and playing with polymer clay. I only occasionally share photos of my cats. Or tempting gourmet cupcakes. 😉