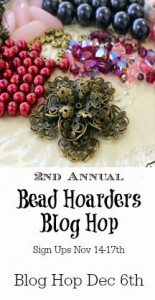 It's reveal day for the 2nd annual Bead Hoarders Blog Hop! This is my first time participating, but I have been a bead hoarder for many years.
Our hostess for this hop is Lori Anderson. I met Lori, virtually, earlier this year when I took part in her Bead Soup Blog Party. That was my first blog hop, and my introduction to so many amazing jewelry and component designers.
The purpose of this hop is to use "beads you've been hoarding as too precious, or too pricey. or just too special to work with …" I have lots of those. Some I bought, some were given to me as gifts. All of them are my precious. 
Introducing my Bead Stash.
Having an excuse, and a deadline, to work with some of my precious beads did not make designing jewelry any easier.  I was still overwhelmed with the number of options, which is part of the reason those beads have gone unused. To give you some idea, here's where I store most (or maybe it's only about 2/3) of my beads.
That's a large Elfa cart from the Container Store, bursting with clear plastic boxes of beads and components. They're sorted by color and by type: reds, blues, glass, gemstone, silver, copper, etc. I had to take the wheels off because the weight was too much for them. The narrow cart to the right holds some of my polymer clay supplies. That's right, I don't just buy beads, I make them.
But wait, there's more. I have bead overflow storage in another room. And, it seems, I am part squirrel. I stash bits and pieces and odds'n'ends in nooks and crannies all over my home. That's a hallmark of a hoarder, right?
That's my work table. In the dining room. There are boxes of shipping supplies (for when someone buys my jewelry!) and miscellaneous beads and tools under and on the tables. Those are my staff, Design Consultant Cloud gazing out the window, and Inspector Mango supervising from the basket.
My Excuse and my Epiphany.
Why do I hoard beads? Well, it's not exactly on purpose. It's sort of unavoidable. Because there are just so darned many pretty shiny beads and so little time to create with them. And when you buy beads to make a project, you invariably need other beads to complete it. And when your fabulous friends enable your bead habit by gifting you with special beads, you save them until you have "the perfect" design for them.
My very thoughtful friend Laura gifted me with an amazingly large haul of sea glass. Most of it is green and amber. There are also some white and two bits of blue. I've been hoarding it for years. I knew I could rustic wire wrap it.  But I wanted to do a fancy wire-wrapped bezel for some of the largest pieces, and I've never attempted one of those.  And I thought I might try drilling holes for some pieces. But I don't have the proper tools. So, it's been suffocating in my stash. Until now. I didn't use it all, but I've made a small start.
I am keeping these sea glass jewelry pieces in my personal collection. They remind me of the friend who gave them to me.  I may use some of the other bits to make jewelry for my online store now that I've taken the leap and used a few. After all, how much sea glass jewelry can one woman wear? (Don't answer that.)
I planned to make a significant dent in my stash for this hop. I wanted you all to be proud of me for overcoming my hoarding ways. I wanted to showcase more of the lovely treasures in my stash. But life had other plans and time just got away from me. Most of the beads and components I find too challenging to work with are gifts from friends. In addition to their significance as a gift, they are also fabulous beads deserving of special designs. For example:
Although I ran out of time to use the turquoise nuggets and foiled glass beads, and so many others in my stash, this hop made me realize something important. If I keep waiting for the "perfect" design to use these treasures, I will never experience the joy of wearing them. And it's not like I can't take something apart and make a different jewelry design later if I think of something better.
So, many thanks to our hostess for letting me join this hop. I now have a lovely necklace and pair of earrings for myself. And motivation to use the other "too precious" beads in my stash. Now I just need time to implement my design ideas.
Be sure to visit the other participants in this hop to see how they've used some of their favorite and most treasured beads and components.