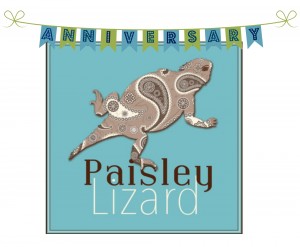 Today is the anniversary of my first blog post. It's almost hard to believe a whole year has come and gone. When I look at my blog archives, I am reminded of all the fun things I've done this year. I decided to celebrate this milestone by doing a sort of "my year in review" retrospective. Here we go, not necessarily in chronological order.
At the end of last December, I celebrated five years of selling on Etsy.  As part of looking forward from that milestone, I made and kept a resolution to start a line of accessories for the menfolk.  I also said I would play with clay more in 2014, intending to make more mixed-media keepsake boxes as well as ornaments and jewelry. I didn't manage to make any new ornaments or boxes, but there are still some of last year's ornaments available in my shop.
While most of my posts have been about my jewelry designs, I published a few helpful hints type posts. For instance, I compiled a list of cruelty-free products for my crafting and jewelry designs, which I continue to update as I add new media to my madness. After I opened a store on IndieMade and wrote a post comparing it to Etsy, I was invited to write for the Creative Bead Chat blog.
I became a social media butterfly, expanding my virtual universe to include teams on Etsy, groups on Facebook, and an online forum. Where I had previously only used Facebook as my social media outlet, you can now find Paisley Lizard on Twitter, Google+, Pinterest, Flickr, and just this week, Tumblr. I'm still getting my footing on some of those platforms, but I'd love you join me.
I learned about blog hops and quickly became a blog party animal. My first hop was the 8th Bead Soup Blog Party, which is internationally famous among beaders and jewelry designers. After that, I joined in 10 other jewelry design challenge hops. And then I hosted a little blog hop party of my own with my friends from The Handmade Forum.
I became a member of the Self-Representing Artists in Jewelry Design (SRAJD) and have been enjoying their weekly design challenge themes. The jewelry designs I submitted in May for the Greek Gods and Goddesses theme were chosen by the SRAJD admins as best representing the monthly theme and I got a feature post on the SRAJD blog. I've also been learning quite a bit about jewelry making and business building on the SRAJD group page on Facebook.
Those weekly design challenges pushed me to try some new techniques, like crochet with wire and beads, which I loved and hope to have time to do more. I tried my none too steady hand at wire-weaving and discovered I should stick to the rustic look. I also experimented with resin and cold enamel, and a little metal paint. I really want to try true enameling, as soon as I overcome my fear of working with a flame. Maybe I'll get there next year.
Did I mention I played with polymer clay this year? On a whim, I added some matcha (green tea powder) to some translucent polymer clay and made beads. I loved the look so much, I made a batch of beads with other spices.  I also played with a couple of fun faux finish tutorials and made faux purple turquoise among other things. Quite a few of my designs for the SRAJD weekly challenges were made using polymer clay.
And last but certainly not least, I transitioned this blog and the rest of my website from a Weebly platform and made the move to WordPress. I have so much to learn about my new blog home, but I can already speak a little html and css thanks to the web guru who did all the heavy lifting for that move. I may even become fluent one day. But don't hold your breath. I have a tendency to get distracted by shiny objects and not finish all the things I start.
Which is why I'm not making any resolutions for this blog or Paisley Lizard for next year. At least, not in writing where you all can hold me accountable. My informal plan is to keep publishing about my adventures in jewelry design, blog hopping, playing with polymer clay and other mixed media. I hope you'll sign up to follow along as my creative journey continues in 2015. I promise there will be lots of pretty pictures of jewelry and only occasional photos of my cats. Or cupcakes. You can subscribe to this blog by email using the options in the right sidebar.