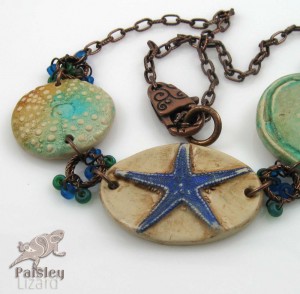 The theme for this week's challenge on the Self-Representing Artists in Jewelry Design blog was "beach." This is the last jewelry design challenge for 2014 and the theme was chosen by popular vote among the members. Members who are longing for sun and sand apparently.
I am not a beach go-er. At least, not in the traditional sense. As a freckled fair-skinned blue-eyed girl, laying on the sand basking under the sun is not my thing. But, as a nature-lover and someone who studied oceanography, I do appreciate the beauty of a coastline, sandy or rocky. From under the cover of pants, long sleeves, a big floppy hat, and a liberal coating of zinc oxide.
When I learned earlier this month that this challenge theme was coming, I went shopping on Etsy. Any excuse to buy beads, right? I found an assortment of lovely rustic hand-painted polymer clay components in a shop based in VA, not far from me. The shop is Summer Wind Art, and the artist, Ashley, makes beautiful nature-inspired beads. They arrived quickly and were perfect for this jewelry design challenge.
The starfish in the center of the necklace was designed to be a bracelet connector. And I started out making a bracelet with it. But the sand dollar and sea urchin beads were also on my bead mat and they wanted to be part of the design. After drilling a second hole in each of them (polymer clay is easy to drill, I used a pin vice) and connecting the three components, I decided the scale was off for a bracelet.
Antique copper finish chain, some glass seed bead dangles in coordinating blues and greens, and a swirly-patterned lobster clasp turned the lovely beach treasure components into a necklace. I have a smaller starfish component left over from the set I purchased. It will live in my stash of art beads awaiting the perfect design.
I could have stopped here and called it a day. But I kept hearing my friend Pam, a sea turtle biologist extraordinaire, saying there were no turtles in my Etsy shop. Technically, there are. There's a southwestern bracelet and some steampunk earrings featuring turtles.  But maybe she meant I needed more turtles. Because I happen to have a small collection of these swirly-shelled turtle pendants (because I buy them every time I see them), I decided to listen to my inner-Pam.
A few years ago I bought several strands of millefiori beads with foiled accents. I made a couple of beach or ocean-themed bracelets and a pair of earrings with them. Because their shimmer and patterns remind me of tropical waters sparking in sunlight. I had just enough left in my stash to make this necklace. (Okay, so I have a handful left still, but you know what I meant.)
I used silver-plated wire to make beaded links, which are attached to rustic antique silver finish connectors. The textures on the turtle and the connectors are carried through to the texture on the antique silver finish lobster clasp. A bit of oxidized silver-plated rolo chain rounds out the length of the necklace in back.
That's it for my beach-themed jewelry design challenges this week. I don't yet know what the challenge themes will be for 2015. I've had so much fun with the challenges this year, I am looking forward to participating in more next year. I'm told they will be monthly, rather than weekly, which will give us all time to do some other jewelry-related activities. Those are also to-be-determined.
In the meanwhile, I'll be here, playing with polymer clay until it gets too hot in the studio. And stringing beads, weaving wire, etc. I hope you'll stop by to see what's new as I share photos and stories of my jewelry design adventures. To be sure you don't miss out, you can subscribe to this blog by email or the feed servers in the right side-bar.