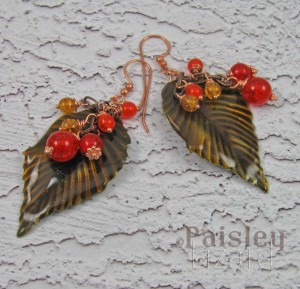 The theme for this week's Self-Representing Artists in Jewelry Design blog challenge was "botanical." The members were asked to suggest and vote on ideas for the weekly themes this month and this was one I proposed.
Which made me feel like I really had to take my jewelry design to the next level. Which resulted in a complete creative block. I thought I couldn't do anything remotely similar to the botanical-inspired jewelry designs I've done in the past. And there have been a lot. 
I've used leaves and flowers and "berries" in quite a few jewelry designs. Here are a few examples of botanical jewelry designs from the past year or so.
I've also done quite few less liberal botanical jewelry designs, using colors that evoke images of leaves and plants.
Eventually I realized I didn't have to break the mold for this design challenge. Yes, it would be spectacular to do something I haven't tried before, explore a new design, experiment with new techniques. I've done that for some of the other challenges this year and while the results haven't always been what I'd hoped for, the experience was worth the effort.
But my determination to take the road less traveled was getting me nowhere fast for this challenge. So, I gave myself permission to revisit some earlier designs. I made a whole series of earrings last fall using enameled steel leaves and beaded dangles. I sold all but one pair. And I still had some leaves left over.
You may have noticed I have a thing for beaded dangles. I try not to put them on everything. But they do appear frequently. Especially in earrings, but also occasionally on bracelets or necklaces. What can I say? I just love beady dangles.
I'm loving the color combination for this pair of earrings. The enameled steel leaf focals are a rich chocolate brown. The "berries" dangling from antiqued copper chain are cracked glass beads in luscious fall colors. I also love the soft sounds they make as the beads move against the leaves. Almost like wind blowing through trees in autumn.
That's it for my botanical jewelry designs for this challenge. Now that I've broken through my creative block by allowing myself to design a variation on a theme I've done before (with beady dangles!), I hope my muse will feel more comfortable tackling the next challenge. The theme for next week is "whimsical" which was also one I voted for. I hope you'll stop by next week to see what kind of whimsy my muse and I create. To be sure you don't miss a post, you can sign up to follow my blog by email or feed servers using the options in the right sidebar. You can also follow me on Facebook or get my Twitter feed to keep up with the latest jewelry designs and creative adventures from Paisley Lizard.