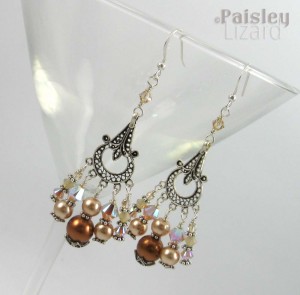 The theme for this week's challenge on the Self-Representing Artists in Jewelry Design blog was "bubbles." That's all. Just that one word: bubbles.
How can such a simple word inspire so many ideas that I couldn't decide where to begin? My muse was all over the place. Soap bubbles. Fish blowing bubbles. Bubble gum. Bubbles in champagne. 
I was initially going to use polymer clay for this jewelry design challenge. Even there, I had too many ideas to know where to begin. I could use the mokume gane technique with metallic polymer clay to create a monochromatic faux dimensional effect on some focals. I could use a variety of colors and the same technique to create soap bubbles in an oil slick palette.
I could use dots of polymer clay on top of focals or beads. I could make big round beads and coat them in shimmery mica powders and string them together. I could poke holes in the clay, to create the open spaces left when bubbles pop. I spent so much time contemplating which of the many choices I could work with, I ran out of time to do any of them. Typical.
On to plan B, which involved beads already on hand. But then what? An illusion necklace with "bubbles" of shimmery AB coated beads? A wire crochet bracelet with white glass pearls as bubbles in a net? Ultimately, it was the idea of champagne bubbles that kept coming back to me. Which is odd because I don't drink champagne.
I have a small collection of Swarovski crystals. Seriously. It's small. It all fits into two of the small Craft Mates Ezy petite snapping caddies, which are about 9X6 inches. That's smaller than most handbags. Mostly what I have are 4mm bicones. They're very handy to add a bit of sparkle and shimmer accent to a design. I also have a handful of Swarovski glass pearls. Literally. The entire collection fits into my hand.
I decided to make earrings because, well, I love making earrings. And since champagne reminds me of celebrations and parties, and because parties call for super dangly earrings, I opted to make chandelier-style earrings. The fine silver filigree connectors have been in my stash for years. I've been saving them for the right occasion. Ditto the fancy bead caps on the large pearls.
As luck would have it, my Swarovski stash had just the right colors for my champagne bubble-inspired jewelry design. This is a super luxurious pair of earrings. The beads are lustrous and gleaming, the metal is sterling and fine silver. And at 3 inches long, they're nearly shoulder sweepers. I'm happy with the final design, even if it wasn't any of my original ideas.
That's it for my bubble-inspired jewelry design. The theme for next week, chosen by popular vote among the members, is "beach." I guess some folks are dreaming of warm places as we approach the middle of winter. I hope you'll stop by next week to see what my muse and I make for the final challenge of this year. You can subscribe to this blog by email or using feed servers with the links in the right sidebar so you don't miss a jewelry design or creative adventure from Paisley Lizard. And you can follow me on Facebook or get my Twitter feed for mini-updates. And if you're a real maverick, you can add me to your circle on Google+.