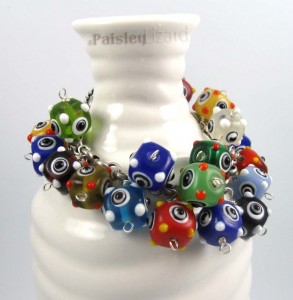 The theme for this week's Self-Representing Artists in Jewelry Design blog challenge was "whimsical." If you've been following my blog you know I've found defining my jewelry style a challenge. I've been looking for the right descriptive terms to use so people can find my jewelry online.
I think of my jewelry as rustic. Organic. Southwestern. Vintage-inspired. Occasionally elegant. And there were always a handful of pieces I couldn't find a label for. Turns out, they're whimsical. Who knew?
Whimsical jewelry is playful, fanciful, amusing. It often includes fanciful creatures like fairies. Here are a few of my past designs which I will now officially be placing in the "whimsical" basket.
I call this bracelet "Exotic Fruit Rodeo" because the colors and textures of the bumpy lampwork beads make me think of exotic sounding fruits like kumquat and kiwi.
This is my "Jetsons" bracelet. The swirls of the wire bead caps and connectors just make me think of that cartoon. I don't know why. They just do.
For this week's challenge I had a plan to make earrings with some adorable penguin charms I got from JettaBug Jewelry on Etsy. She specializes in "Whimsical jewelry & hand-sculpted polymer pretties.."  Unfortunately, I broke one of the little penguins when my pliers slipped. Replacement charms were on their way to me, along with some other whimsical beads and components from her shop. But they wouldn't arrive in time for this design deadline. (Through no fault of hers, of course.)
So on to plan B. I had some colorful bumpy lampwork "evil eye" beads strung with bumpy pewter beads in my UFO box. (All creative people have a box, bag, drawer, or room with their Un-Finished Objects.) I was on the verge of crimping a clasp to the beading wire when I remembered some chunky silver-plated brass rolo chain I recently won. I decided to make a funky chunky bumpy charm bracelet. I left off the pewter beads and loaded the chain up with glass beads.
Evil eye beads, or simply eye beads, as they are sometimes called, are part of a fascinating history of how adornment evolved among different cultures. There is a widely held belief that eye contact with a god, envious neighbor, or malevolent force can cause harm. Wearing eye beads is thought to protect the wearer by repelling the evil gaze. This particular style emulates the very intricate horned glass beads popular in China from about 481- 221 B.C.
I was still feeling whimsical so I went back to my bead stash and found an antiqued copper finish fairy charm. It doesn't get much more whimsical than fairies. Except when you add ladybugs.
This whimsical bracelet has rough cut green millefiori glass nuggets wrapped to connectors with copper wire. The nuggets are accented with dangles of red and pink lampwork beads and lampwork ladybugs. The fairy charm dangles from one end and the bracelet closes with an antiqued copper finish lobster clasp with flower detail. I've had these beads in my stash for a while and am quite pleased to finally have the right design for them.
That's it for the whimsical jewelry designs this week. But it's definitely not the end of my whimsical inspiration. For one thing, I have a new set of baby penguin charms on the way. And a bunny with a moon tattoo on it's rump. If that doesn't say whimsy, well, I just don't know what does.
The theme for next week's challenge is "winter" which is somewhat fitting considering it's mid-December. Hey, penguins are wintery! Maybe I'll make a whimsical winter jewelry design. I hope you'll stop by next week to see what happens. To be sure you don't miss it, you can sign up to follow my blog by email or feed servers. Just choose an option from the right sidebar. And, as always, you can follow me on Facebook, Twitter, and Google+ to get updates on my latest jewelry designs and creative adventures.