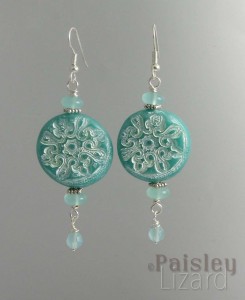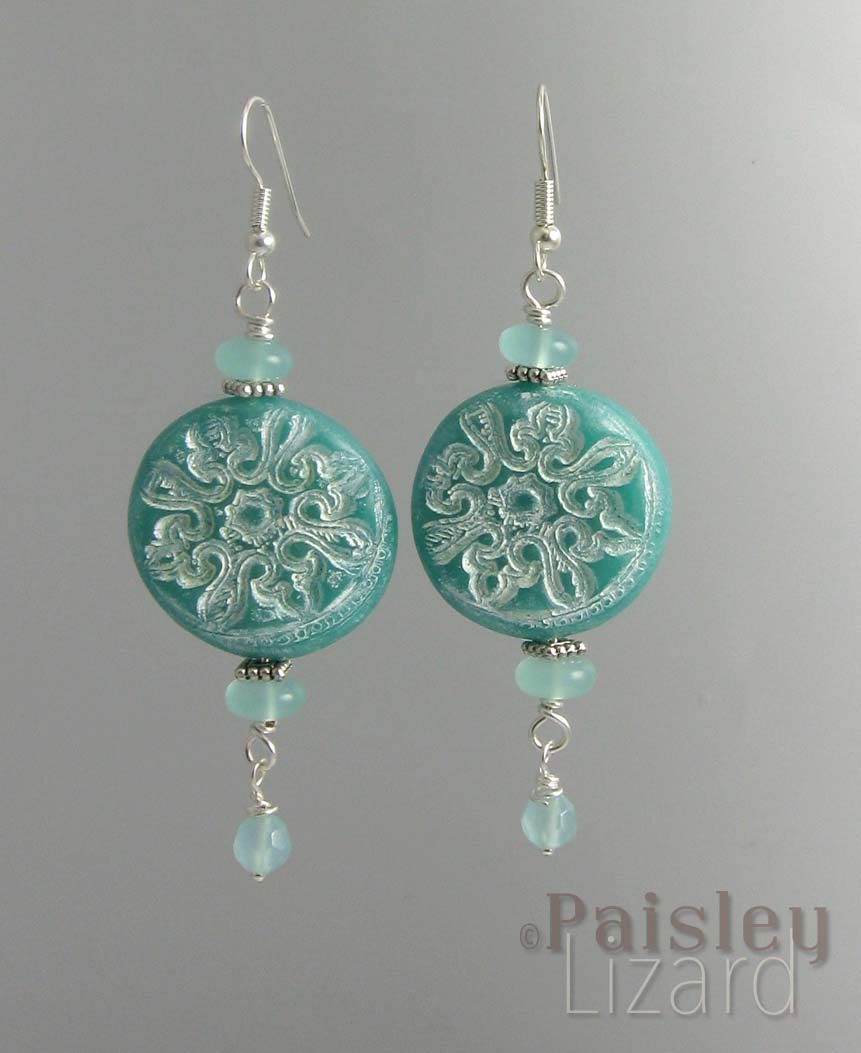 The theme for this week's Self-Representing Artists in Jewelry Design blog challenge was "winter" or "December." This was a theme chosen by popular vote among the members.
I didn't have to do any research for this jewelry design challenge theme. And it wasn't difficult to get inspired.
I love winter:  the kind where it gets freezing cold and snows big fluffy piles. I love wearing sweaters, scarves, boots, and layers. Winter makes me happy.
Earrings make me happy too. Especially the long dangly kind. I could make earrings all day. And for this challenge, I kinda did just that.  I started with some rustic snowflake beads I made earlier this month, with this theme in mind. I combined techniques from the Faux Glass Effects and Rustic Beads and Components tutorials from The Blue Bottle Tree. If you haven't tried one of Ginger Davis-Allman's tutorials, you are missing out.
I made three pair, using three different colors of focals, all with monochromatic color schemes. I added some glass beads for accents and used silver-plated wires.
While I don't normally repeat a design, these three pair of earrings are all variations on a theme. And yet each pair are a little different, because of the handmade components and also my choice of accents. I think I'm starting to see how I could come up with a cohesive looking line of jewelry. Just in time for next year's Build a Line Design Challenge with B'sue Boutiques.
The final pair of earrings I made inspired by the winter theme challenge uses the adorable penguin chick charms I had originally planned to use for last week's whimsical theme. If you were with me last week you know I damaged one of the little chicks and was waiting on replacements from the artist, Rejetta Sellers of Jetta Bug Jewelry. Her work is fabulous, and I have several more components from her shop awaiting design inspiration. And even more on my wish list.
I couldn't find the right size or color of beads in my stash to go with the little penguins, so I mixed up a batch of what I'm calling "rustic snowball" beads using scraps of polymer clay and a little acrylic paint.  I still feel like they need a little something else. Maybe a touch of ribbon knotted between the charms and the beads? Or maybe not. Don't want to overshadow those adorable little penguins.
That's it for my winter-themed jewelry designs. I hope you enjoyed the frosty whimsical rustic jewelry. And I hope you'll stop by next week to see what I come up with for the "bubbles" theme. You can subscribe to my blog by email or using the feed servers in the right sidebar to be sure you don't miss a thing.