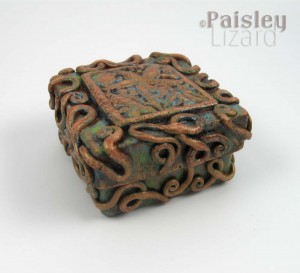 I've been experimenting with some mixed media recipes to create a faux copper patina effect on polymer clay. I love copper. And I especially love copper with a patina. Those splotches of cool turquoise blues and greens on the warm reddish metal. Yum.
Shiny copper, like the color of a new penny, is pretty. But some things just get better with age, and copper is one of them. I love rustic crusty grungy looking things. Things that look lived in, weathered, old.
I've seen some spectacularly realistic faux copper patina effects on polymer clay done by other artists. I don't know how they do it but I wanted to create a similar effect for some of my jewelry. These are the results of my first experiments.
Sure, I could have used some chemicals (or heat) to put a real patina on actual copper. But as I don't have the tools to create beads and things in the shapes and sizes I want, I'd be limited to what I could purchase from other artists or suppliers. And did you know patinas on metals can wear off? Yep. True story.
Because polymer clay is exceptionally good for mimicking so many other surfaces and substances from leather to glass, it was a natural choice for my experiments. It's also inexpensive, which is a plus for the error part of "trial and error" experimentation. It doesn't require specialized equipment or training, it's non-toxic, and it's very malleable. You can shape it into almost anything and use it cover any surface that can be baked at the curing temperature of the clay.
The Experiment, Part 1. I started my experiments with some beads. I won't be telling you exactly how I made the beads. Because I got the idea from the Rustic Beads and Components tutorial by Ginger Davis-Allman of The Blue Bottle Tree. If you're interested in making your own rustic beads, I highly recommend the tutorial. No, it won't tell you how to make my exact beads. These are my own recipe. But it will tell you how to make some fabulous rustic beads of your own.
To make my tester beads. I started with some copper colored clay. I used Premo! Accents in copper, straight from the package. I didn't condition it thoroughly because I wanted my beads to crack a little here and there as I shaped them. I wanted the shapes to have lots of texture, big and small. Nooks and crannies and cracks and crevices to make them look worn and weathered.
After shaping the beads and piercing holes, I baked them at the recommended time and temperature on the package. Once the beads cooled I started adding the patina. And by "cooled" I mean they weren't too hot to handle. I am impatient and didn't wait for them to reach room temperature.
My patina recipe uses three colors of acrylic paint, applied according to the technique in the aforementioned tutorial. (You really should get the tutorial. You won't regret it.) I started with a dark brown-ish black as my first layer. Copper doesn't always oxidize to a dark color before it develops a patina, but when it does? Yum.  The darker antiquing also serves to highlight the next layers.
The next layers of my patina recipe were blues and greens. Once those layers dried, I sealed the beads with gloss polyurethane. The water-based kind, of course. I could have used matte  polyurethane for a grungier finish. Or wax for a more burnished look. But I wanted the un-patina-ed copper parts to really shine for emphasis. And then I popped the beads back into the still warm oven to seal the deal.
The Experiment, Part 2. For my next trick, er, test, I grabbed a paper mache box. I've been re-stocking the keepsake box section of my Etsy shop. I'd been focused on hearts and roses …for Valentine's Day, which is just around the corner. These rustic beads and things were just the break I needed from all the pretty sweetness.
This little crusty rustic sea life box is formed over a paper mache base. You can make polymer clay containers and vessels without forming them over a base. It takes a bit more effort. And skill. And time. And patience. At least two of those are things I usually have in short supply. Can you guess which?
Anyhoo – I coated the little box in a thin layer of glue. Good ol' Elmer's multi-purpose white glue. This is an important preparation step as it helps the raw polymer clay stick in place as you are covering the box, and it helps the clay bond to the box as it cures.
I first covered the box in a thin layer of copper clay. I textured that layer. I next used a silicone mold I made to shape the little sea life motif for the lid. And then I rolled out some thin snakes of clay and squiggled them all over the top and sides of the box. All that got textured too.
As with the beads, the box was baked according to the directions on the polymer clay package. No worries the box would burn. Paper is perfectly safe at 275 degrees Farenheit. (Think about the parchment paper you use to line your cookie sheets.) Again, I didn't wait for the box to cool completely before beginning to apply the layers of patina.  I used the same basic steps as for the beads, right up to an including the gloss polyurethane.
Note that only the outside of the box is covered with polymer clay. If I had covered the whole thing, inside and out, the lid wouldn't fit. I gave the inside of the box a nice finish with a couple of coats of acrylic paint in a coordinating blue.
And then I remembered I had a lizard mold. Which I made from two-part silicone putty with an old broken earring. I also remembered I had a paisley texture sheet. Somewhere. Cue the scavenger hunt in my craft supplies. And voila! A paisley lizard faux copper patina keepsake box. My faux copper patina piece de resistance.
Of all the things I've made with polymer clay since I first discovered it over 10 years ago, this little lizard box has to be my favorite. In case you didn't know, I adore copper. And lizards. And paisley. And rustic aged-looking things. What's not to love?
The Experiment, Part 3. As I am a fan of practically any distressed, weathered, aged, oxidized metal, I decided to try another test recipe. This time I was going for rusty iron. I only made two test beads. Why only two? I'd been playing in the studio all day and my furry four-legged staff were demanding food and playtime. So I quickly grabbed two blobs of clay and shaped some beads to add to the batch going into the oven.
While I do like the grungy distressed look of these beads, the effect is not quite what I had envisioned for rusty iron. So, I'll keep working on this recipe. And studying images of weathered metal for more inspiration. After rusted iron, I'm thinking bronze patina. And then, why stop at metals? Why not some weathered wood? And why stop at colors? How about some ancient crumbling stone textures? There's really no limit to what can be imitated with polymer clay.
To Be Continued. There is, however, a limit to how much time I can spend playing with polymer clay.  So, this is the end of my mixed media and faux patina offerings for today. I hope you'll stop by again, to see whether I can perfect my rusty iron recipe, to look at new jewelry designs, and other creative adventures. You can subscribe to this blog by email or feed servers so you won't miss a thing. The links are all in the side bar on my blog page. You can also follow me on Facebook and get my Twitter feed to keep up with what's new from the Paisley Lizard.