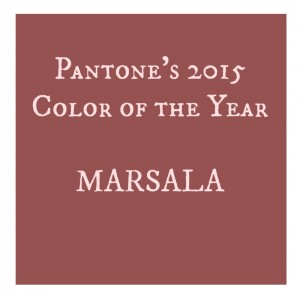 The inspiration for this month's We're All Ears earring design challenge is Pantone's Color of the Year for 2015. That color is "marsala" which Pantone describes as a "naturally robust and earthy wine red [that] enriches our minds, bodies and souls." That's not asking for much for a color now, is it?
I've heard (read) more than a few jewelry designers state how they are less than wowed by this color and the rest of Pantone's choices for the spring season. They feel the color palette is too subdued and lacks oomph. Well, that's just how I like my colors.
Earth tones, grayed or even muddy hues make me feel at peace. Relaxed. Content. I like vibrant colors too. But only in small doses and for short periods of time. They have too much vibrational energy and that makes me edgy and restless. Yes, colors vibrate, or rather, their wavelengths do. And, yes, being made to feel tense by a bright color is a thing. I'm not making it up.
So, needless to say, I am thrilled by this choice for color of the year. The fact that it's a color I look good in, which means I might find a few things in the clothes stores that I actually like this year, might also have something to do with it. But enough about me and my color quirks. You're here to see the earrings.
The first pair of earrings I made for this challenge feature faceted rectangles of brecciated jasper. It's a rich earthy red very close to marsala. These particular beads have a healthy dose of darker inclusions, which makes them challenging to photograph. The jasper is paired with amazonite, which is a good representation for what Pantone is calling "lucite green." The beads are accented with antique brass bead caps and wires. Pantone calles their spring color palette for women "en plein air" and I'm calling these earrings "Wine al fresco."
I have a fair assortment of beads in brecciated jasper. I bought all of it well before the announcement of this year's color. It's a happy coincidence that it is such a lovely match for marsala. For these "Wild Flowers are Free" earrings, the earthy red beads carved in the shape of flowers are paired with more amazonite, this time with a frosted finish. And some blue aventurine, which picks up the blue hues from the "en plain air" palette. Antique finish brass wire is rustic wrapped around the beads to pull the earthy organic look together.
The final pair of earrings created for this challenge uses garnet as the earthy red component. The garnet chips are wrapped in clusters on antique finish brass wire to dangle above slate gray ovals. I'm pretty sure the ovals are jasper, but don't ask me what kind. I chose them to bring another neutral from the "en plain air" palette into the design: glacier gray. Which is why I'm calling these "Chilled Wine."
That's it for my earring designs for this month's challenge. Thanks much to our hostess, Erin Prais-Hintz of Tesori Trovati, for choosing this delightful inspiration. Be sure to stop by the Earrings Every Day blog to check out her designs and those of the other jewelry artists participating in the challenge.
But before you go, I'd love to hear what you think about my earring designs for this challenge. Is marsala, or any of the other colors this season, something you'd wear? Or do you prefer your colors to have more zing?