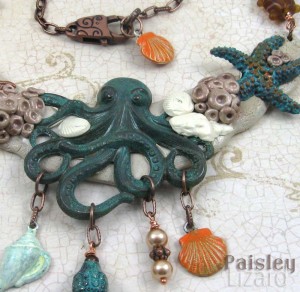 Late last year I joined a couple of Facebook groups run by Brenda Sue Lansdowne of B'sue Boutiques. One of them, the Bohemian Vibe group, has monthly design challenges involving polymer clay. And brass stampings or other visible components from B'sue Boutiques. And any other mixed-media components or techniques of our choosing.
This month,  Christi Friesen challenged us to design a "secret garden" piece. She shared an awesome example and tutorial, but also said we were free to interpret the theme as we will. So, you just know I had to go waaaay into left field for my idea.
A little detour
I've been collecting Christi's polymer clay sculpture series books from the beginning. I haven't attempted most of the adorable projects depicted in them, but I have played with some of the techniques. I especially like what she calls the "lookit blend" which is a much more relaxed color blend than the Skinner blend.
One of the first things I made with polymer clay was a covered photo frame for a friend's first baby's room. The room had an under the sea theme, and Christi's "Under the Sea" book was inspiration for the design.
The bottom layer is a traditional skinner blend in turquoise and ultramarine. The sandy bottom where the turtle and a couple of starfish are hanging out was based on a color recipe in Christi's book. The frothy waves at the top are a "lookit" blend. I cheated and used a mold for all the little critters. Sculpting is not my forte.
Back to the garden
What does my under the sea photo frame have to do with this particular jewelry design challenge? Well, the first thing that popped into my head when I read the challenge theme description was an octopus's garden. And then that Beatle's song got stuck in my head.
And then I remembered one of the brass stampings I ordered from B'sue Boutiques was an octopus. The next thing you know, I'm in the studio, Beatles on the iPod, playing with polymer clay making sea shells and things.
I'd like to be under the sea
In an octopus's garden in the shade

We would be warm below the storm
In our little hideaway beneath the waves
Resting our head on the sea bed
In an octopus's garden near a cave
For the challenge, Christi wrote "When I think of a secret garden, I think of a safe little place that I can go to to get away from it all. It's cozy and a little mysterious and mostly comfortable. What is your secret garden like? Use those feelings to create this month's project!"
As an extreme introvert, my ideal "safe little place" is far far away from not only people but all the over-stimulation of the "civilized" world. Ringing phones, text message alerts, screaming commercial announcers, street lights, car alarms, airplanes overhead, etc. Besides "outer space" the farthest away place from all that I can think of is underwater.
The design
So my secret garden is under the sea, guarded by an octopus. They're very smart, you know. And they do collect things to decorate the areas around their dens, which some folks call the octopus's garden. It may be for camouflage, but it could just be because they like stuff. Or maybe, given that the decor is often discarded shells from things they ate, they're just lazy about taking out the trash.
The focal part of the necklace is formed over a brass necklace blank, which is completely covered front and back in sand-colored polymer clay.(And here's a thing I learned too late for this design – a neckpiece like this sits better if you leave it slightly convex in the center rather than flattened as I did.)  The octopus and the two starfish are metal that I colored with Vintaj metal paints. The shells and coral are more polymer clay, which I colored with mica powders before baking.
The neckpiece is accented with a few bead and charm dangles hanging from the octopus's arms. And then it is attached to the necklace by way of a school of glass fish on copper wire. There are some glass pearls and faceted fire-polished crystal accents. The back of the necklace is antique copper finish chain that fastens with an antique copper finish lobster clasp. Finally, there's a little scallop shell charm at the back. The little shell charms and that barrel bead were also painted with Vintaj metal paints. That stuff is fun.
I'm pretty sure this isn't quite what Christi had in mind when she challenged us to design a secret garden. But she did say to make it our own. I think I could be quite content hanging out in this octopus's garden for a while. If it weren't for the fact that I can't breath under water.
What would your secret garden look like? Is it filled with brightly colored tropical flowers and chirping birds? Or is it more of a zen rock garden with a single bench upon which to sit and meditate?  Oh, hey, there's an idea. I think I'll make one of those – in jewelry form – next. Thanks for stopping by. I hope you enjoyed your visit and that you'll be back again to read more about my creative journey and jewelry design adventures.