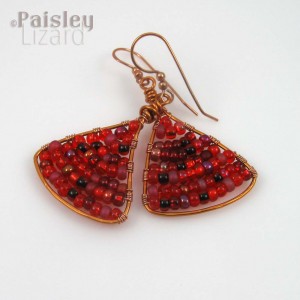 The theme for this month's challenge on the Self-Representing Artists in Jewelry Design blog is "wire work."  Which is left wide-open for us to design any kind of jewelry using any kind of wire work techniques.
I initially planned to scour my technique books for a new wire technique to try. And then I remembered I'm supposed to be more focused this year. I'm working on a cohesive look for my jewelry, and need to refine techniques I already know and like. That's not to say I won't get distracted, but for this challenge, I'm challenging myself to revisit a technique.
Last year I dabbled in rudimentary wire weaving for several of the SRAJD weekly challenges. On my first attempt, I discovered it is indeed as difficult as I imagined to get nice orderly wraps. On subsequent designs, I decided to embrace the organic look rather than try to perfect the neat and tidy style. So that's what I went with for this challenge. Organic. Rustic. A little imperfect.
And of course, I went with earrings. You do know I love earrings, right? For the first pair, I shaped triangular frames from natural copper wire. Even though I used a mandrel, no two triangles come out exactly the same. They're organic.
I hammered the frames lightly, to harden them. And I left tool marks on purpose. (Note to self – add texturing hammers to wish list.) The insides of the triangles are filled with rows of red Czech glass beads woven to the frames with copper wire. For reasons known only to the mandrel, one triangle has sides that flare out, and the other has sides that curve inward. Organic.
The next pair of earrings were also triangles. But this time, I wanted the base facing up. Why? I'm making a line of earrings for the classical elements of fire, earth, etc. And whereas the fire element is represented by a triangle with the point up, the earth element has the point down.
To make the "upside down" triangles, I used the same mandrel, but a thinner gauge of wire. These triangles have a doubled frame, with rustic wraps at the top. The wire frames were oxidized with liver of sulfur. The green Czech glass beads were woven inside the triangular frames – which again are not an exact match – using natural copper wire. Rustic organic.
I was going to make three more pair, to complete the elemental theme. A blue triangle for water. A yellow one for air. And a white circle for aether. But I got slightly distracted by purple beads when searching for blue and yellow ones.
These fringed ovals started out as paisley shapes. In my head. Once my hands got ahold of them,  they turned into ovals. Rather than fill the centers of these copper wire frames with beads as I did for the triangles, I used fine copper wire to wrap purple Czech glass beads around the outside of the frames. Once I wrapped the two top loops together at the tops, they were too wide to fit onto an ear wire. Hence the purple beaded link connectors.
I will come back to finish the other elemental earrings. I only lost focus for a teeny tiny moment. And it wasn't entirely off topic as that last pair of earrings was still using the same technique. But that's it for now for my wire work jewelry design challenge pieces.
The theme for next month is "patinas" like the lovely dark oxidized color I gave the copper wire. As it happens, patinas fit right in with my focus on creating rustic organic jewelry. I hope you'll stop by to see how I use the challenge theme to keep my focus. Want to make sure you don't miss it? You can subscribe to this blog by email, get the rss feed, or have new posts delivered to your news servers by using the links in the right sidebar of my blog. You can also follow me on Facebook and get my Twitter feed to keep up with my newest jewelry designs and creative adventures.