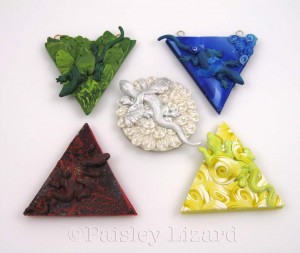 Here we are for Part 2 of the Build a Line design challenge (BALC for short) where I'll be showing my progress in creating a line of jewelry using components from our sponsor and instructor, Brenda Sue (aka B'sue) Lansdowne of B'sue Boutiques.
In Part 1 of the challenge, the other participants and I revealed the themes we'd be exploring and components we would be using. Some of us (the over-achievers) even had a finished piece of jewelry or two to show off.  In Part 3, coming up in a month from today, we will be debuting our completed lines, which must have at least five related pieces.
Previously on BALC
In case you missed it, or can't quite remember the details, my chosen design theme revealed in Part 1 is "Elemental Lizards." For this theme I'm using brass lizard stampings, which I got from B'sue Boutiques Etsy shop, as part of the focal pieces for five necklaces. There will be one necklace for each of the five alchemy elements: fire, air, water, earth, and aether (or spirit). Each element has a color associated with it: yellow for air, blue for water, red for fire, green for earth, and white for aether.
The Progress and some Pondering
One of the reasons I chose to sign up for this challenge is because, while I enjoy making one-of-a-kind designs and continuing to explore new techniques and materials for my jewelry, I want my work to be recognizable as mine.  A cohesive look is what I'm after and why I'm here.
Brenda has encouraged us to think "bread and butter" for our challenge pieces. As in, including things that will sell in an impulse price range for our target market, and be relatively easy to reproduce in a short amount of time, so that we can optimize our profit.  She asked those of us determined to make one-of-a-kinds rather than production pieces to explain why we think we can sell them for a profit.
I'm one of the those who hasn't quite been able to convince my muse that we should repeat ourselves creatively. She insists there's too little time to get to all the ideas we have as it is without wasting time making the same things over and over. Because making jewelry is a creative outlet and way from me to decompress from my day job, I have a difficult time disagreeing with my muse on that point.
However, Brenda has managed to convince me that there is value in doing variations on a theme. (I know, it's a modern day miracle.) Like varying the colors used, or the types of metals. So that someone who would really like to buy my rustic copper and turquoise earrings if they were made with silver instead has that option. So I can make the same basic design in copper, silver, brass, etc. (or with different colors of beads) and do a limited edition line for that design.
There is also something to be said for "limited edition" pieces as a marketing strategy. If people like something and know I will only ever make a limited number, they may be likely to buy rather than put it on their "maybe someday" list. It's a basic supply and demand thing, sort of like how keeping the supply of diamonds low ensures a continuously profitable demand for them. What? You didn't know that was a thing?
As for price points for my line, I jokingly commented in the Facebook group for this class that I was going to do a "rice crackers and hummus" line rather than "bread and butter." That's because my target market might be a tad more crunchy and savory in their tastes than the bread and butter crowd. Even so, my line will include pieces spanning a range of prices, or tiers, as they say.
I am aiming for more art jewelry in my collection, using artisan beads and focals as the main components. The market, and price point, for that type of jewelry tends to be a little different than fashion jewelry made primarily with mass-produced components.
I still make fashion jewelry using non-artisan components. In fact, I have a new Etsy shop – the Cactus Frog – dedicated to my whimsical fashion jewelry designs created with high quality glass beads (mostly Czech and Swarovski) and mixed metal components.
This Elemental Lizards line will go into my original Etsy shop – Paisley Lizard Designs – where I'm offering my rustic organic artisan jewelry collection made with semi-precious gemstones along with glass, ceramic, polymer clay, and mixed media artisan components.
Each of these Elemental Lizards I've shown you today will become the focal of a necklace. There will also be coordinating earrings,  and perhaps, bracelets.  I might even go wild and throw in some brooches.  I also made four focals from the same polymer clay recipes, minus the lizards. For those who like the elements idea but would rather be caught dead than wear a lizard. It's okay; Paisley understands not all lizards are as adorable as she.
That's all you get to see from me for Part 2 of the Build a Line Design Challenge. You will have to come back next month to see how I used my focals and beads in finished jewelry designs. Or to find out why four of the lizard focals are shaped like triangles while one is round. And why two of the triangles point up while two point down. (If you know the answers, don't share them with the class just yet.)
Until then, you can spend a little time visiting the other designers participating in this challenge and treat yourself to more eye candy. You won't be disappointed. There are themes ranging from flowers to sea life, and from birds to bugs.
The Blog Hop Participants
***NOTE: If you leave a comment in the box below and it doesn't show up on my blog right away, don't fret. My spam filtering protocols are just holding on to it pending my approval.