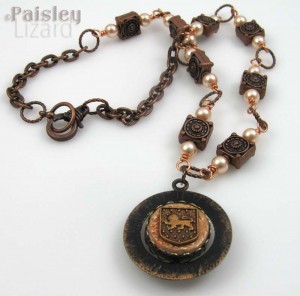 When Miriam of Joyful Muse Studio offered to send out some of her newest artisan jewelry components to test, I was among the first to raise my hand. I received two lovely mixed media focals and a pair of hand-painted metal components to use in my own jewelry designs.
Designing jewelry with components not of your choosing can be a challenge. I didn't know what colors I would receive or even what kind of components Miriam would send. I only knew I had seen and admired her work and was certain this would be fun.
What Miriam sent was a pastel blue textured polymer clay heart focal with a yellow inset; a painted distressed metal spinner focal with peachy polymer clay inset; and a pair of red distressed painted metal, um, whatchamacallits. They might technically be clock hands?
Sadly, the blue heart focal was damaged in transit. There was a little curly-q of polymer clay in the bag, which looks like it was intended to be curled around the center of the yellow insert. Unless you look closely for the broken bit, or knew it was supposed to be there, you'd never know.
I wanted to jump right into making a necklace with that heart. I'm not a hearts kinda girl, but I know they are popular jewelry items, especially this time of year, with Valentine's Day right around the corner, and Mother's Day not too far off. I didn't have any beads in my stash that coordinated with the blue or the yellow. And I haven't had a chance to take the heart on a bead shopping trip. So, I set it aside for another day. And turned to those red metal bits.
The shape and distressed finish of these metal components made me think vintage or steampunk. Which made me hunt for my gears and sprockets. And you know almost anytime I'm presented with a pair of components, my mind goes straight to earrings. I didn't even bother trying to come up with a bracelet or necklace design for these.
I paired them with antique brass finish gears and wires, although they would have looked good with raw brass or antique gold because there are touches of gold showing through the red. I couldn't find an exact match for the red in my beads, but these reddish-orange fiber optic (a.k.a., cat's eye) glass beads were in the right neighborhood.
The spinner focal had me stumped for a bit. I couldn't decide how to use it in a design, but I also couldn't figure out what metal to pair it with. And then, when looking for the right shade of peach beads to go with the polymer clay insert, I noticed some antique copper finish beads.
The spinner focal has a lion crest on one side, which made me think "regal" like something a medieval princess would wear.  So I first wanted to pair it with a heavier chain and a strand of pearls. But when I found these box-shaped antique copper finish beads, I saw this design come together.
I used peach glass pearls, the copper box beads, and twisted copper jump rings to form the necklace. The beads are wrapped on natural copper wire, which complements the antique finish on the other components and brings out more of the peach tones. The back of the necklace is finished with a textured link antique copper finish chain and a large lobster clasp.
I'd like to thank Miriam for the opportunity to design jewelry with her lovely mixed media artisan components. To see more of her components, or to get some for yourself, visit the Joyful Muse shop on Etsy.  When I find just the right beads for that blue heart focal, I will be sure to share my jewelry design with you all. So, stay tuned for more jewelry designs with artisan components. Follow me on Facebook or tune in to my Twitter feed to be sure you don't miss any updates. You can also subscribe to this blog by email or feed servers using the buttons in the right sidebar.