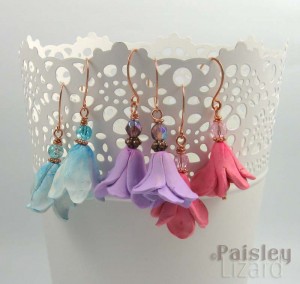 The inspiration for this month's We're All Ears design challenge is a series of delightfully fanciful paintings with fresh flower accents. The artist behind the whimsical flower girl art is Malaysian artist and photographer Lim Zhi Wei (a.k.a Limzy).
This month is also the one-year anniversary of these monthly challenges on the Earrings Everyday Blog. I only learned of the blog and started participating in the challenges last fall. Each month's inspiration has been more fun than the last. 
The art for this challenge was filled with color and whimsy and blooming flowers. Which seems appropriate given that spring is just around the corner. I decided to use polymer clay to create my own whimsical blossoms. They are a little rustic, which is the style direction in which I've decided to focus this year.
I had a lot of fun shaping and coloring the blooms. I think I'll be making more. There are so many colors to explore. I also made some rustic flower caps from the same colors of polymer clay, plus some yellow. I didn't have time to work up some earrings from them before this hop, but they should be springing up in my Etsy shop soon, along with these three pair.
I'd like to thank our hostess, Erin Prais-Hintz of Tesori Trovati for yet another fabulous inspiration and fun challenge. I'm looking forward to the next year's worth of inspiration and designs. Be sure to check out the other submissions for this month's theme.