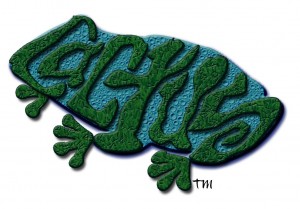 The Paisley Lizard would like to introduce you to her close cousin, the Cactus Frog. I have a fabulous new logo to go with the new Etsy shop where I'm offering my brand of handmade whimsical jewelry.
As this is my year to focus on a cohesive look for my jewelry designs, I took a hard look at the offerings in my original Etsy shop and found a split personality.  And then decided I needed a second shop, and hence, a new logo.
Why a new logo?
Oh sure, I could have simply called the other shop some variation on Paisley Lizard. The original shop is Paisley Lizard Designs. The spin-off shop could have been Paisley Lizard Jewelry or something. And maybe that would have been the sensible thing to do, from a marketing perspective.
But where would be the fun in that? Why would I need a fabulous new logo if the other shop is basically the same name? And I wanted a new logo. Not because I don't love Paisley. I do. I adore that little lizard. But I've had this idea for another logo, and needed an excuse to use it. And so, the Cactus Frog was born.
What do a frog and cactus have to do with each other?
I could tell you there actually are frogs that live in cactii. In fact, there are some species of frogs native to arid regions. The reality is, I like frogs. And I'm from a desert region, so I have a special appreciation for cactus plants. And the idea of a frog on a cactus sort of fits my jewelry style personality.
You could say I've been hopping from one technique, style, material, etc. like a frog on a thorny cactus, never resting too long in one spot. And that's how my idea for a new logo started. The next step was how to represent those two things – frog and cactus – in a logo.
How did I come up with the logo idea?
A logo of a cactus with a frog on it seemed too complicated. It would have to be large enough to show the frog, which would make the cactus enormous by scale comparison. Not so great for things like Facebook profile pictures or Etsy shop avatars. Or business cards.
What about a frog that looks cactus-y with thorns and things? Nah, too obvious. Then, I remembered seeing graphics where an object was created from words. Like an automobile silhouette was formed from the letters C, A, and R. But I couldn't remember what that kind of graphic art was called. I was sure it had a special name.
So, I asked my friends on Facebook. And that's how I discovered my friend Beth, who creates amazing jewelry and mixed-media art, is a graphic design genius. You can read about her amazing work on her blog, Create My World Designs.
Who designed my logo?
My friends got busy searching their memories and the internet for the answer to my question, as if I had sent them off on a scavenger hunt. One of them, Beth, responded that while she didn't know if there was a specific name for them, she'd done that type of graphic drawing.
It turns out they're just a form of "typography illustration," which my friend Sarah tracked down. Check out these 40 amazing typographic animals formed from the words that name them.
I immediately messaged Beth to ask if she'd be willing to take a commission for a logo. Luckily for me, she thought it would be fun. And coincidentally, she had just begun adding digital graphics to the polymer clay and mixed-media offerings in her Create My World shop on Etsy. It was serendipity. And my lucky day. (Btw, Beth has another Etsy shop – One More Use – where she sells her amazing recycled, upcycled, repurposed, and reclaimed jewelry.)
What's the difference between the Lizard and the Frog?
I'm splitting my handmade jewelry into two broad categories now that I have two logos and shops. Paisley Lizard will be focused on my rustic, organic, art jewelry, which is made with semi-precious gemstones, artisan components, and mixed metals. My mixed media ornaments, keepsake boxes, and buttons will also stay under the Paisley Lizard brand.
The Cactus Frog is the new logo for what is primarily my fashion jewelry, made with glass beads and crystals. Those designs tend to be whimsical, and a little more sparkly than what you'll find from Paisley Lizard.
If you're a fan of what I'm calling my "whimsical" fashion jewelry designs, or if you had some marked as favorites, you might want to hop over to the Cactus Frog on Etsy. I don't have all my inventory split up quite yet. I'm moving one or two pieces of jewelry per day. It's a tedious process because there's no import feature on Etsy. And each piece is one-of-a-kind so each listing is different. But I'm making steady progress.
And while my intent is to focus on my rustic art jewelry under the Paisley Lizard logo and brand, I will no doubt lose focus, get distracted by shiny objects, and create new jewelry designs for the Cactus Frog brand along the way. To be sure you know when new designs are added to the Cactus Frog on Etsy, be sure to follow her on Facebook. And stay tuned to this blog. I don't intend to create a second blog: Paisley said she'd be happy to share this one with Cactus.
I'd love to hear what you think of my new logo. I'm still playing around with background colors. I really like the orange as complement to the blues and greens. But I don't think it would work so well on my earring cards. Maybe a lighter shade of blue or green for those?