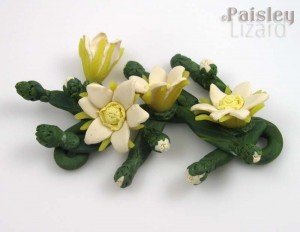 Last month I wrote about the Secret Garden jewelry design challenge on the Bohemian Vibe group on Facebook.  My interpretation of the theme was an Octopus Garden statement necklace. But I had ideas for other designs.
Luckily, the challenge was extended for a month and I was able to create a second secret garden. This time, my design was inspired by some of my favorite flowers, which only bloom at night. 
The Inspiration
I don't have any of my own photos of night blooming cereus to show you, but here is a wonderful photo on Flickr of one variety, if you want to see what they look like. Cereus are a type of cactus, originating is South America. They are cultivated, and grow wild as transplanted species, in many places.
Some species of cereus only bloom once a year, for one night. Many night blooming cacti are called "night blooming cereus" even though they are technically a different species. Who cares what the scientists call them, they're just lovely. And are sometimes called "Queen of the Night."
They are pollinated by bats and sphinx moths. Which are also downright awesome. Again, sorry I don't have photos, but you can do your own internet search if you're curious.
The Design Dilemmas
As you may have read more than once in my blog, I am terrible at sculpting. I don't have the best fine motor skills (probably should have played video games when all my friends were doing it). I always want to create realistic sculpture. I prefer realism to abstract in my art. But I just don't have the skill to pull it off.
So when I first looked closely at photos of these flowers I was stopped in my tracks. No way could I duplicate that kind of detail. No way. Then I remembered my goal for my jewelry this year is to focus on rustic and organic. And realized my interpretation didn't have to be an exact duplicate. Phew.
Because I've stopped myself from trying much polymer clay sculpting in the past, I made more than a few mistakes with this piece. For one thing, I tried to incorporate too many elements all at once, when the piece was all soft and floppy. Given that polymer clay can be baked an unlimited number of times to partially cure and "set" bits and pieces, I should have worked in smaller increments. Things would have looked a lot less messy if I had.
The other mistake I made in creating this piece was to work without a sketch, or a plan. Setting aside the part where my drawing skills are pathetic, working without a sketch resulted in an unbalanced piece after the second partial cure. I added a few more buds here and there to try to correct that. Again, working without a sketch. And again, got an unbalanced piece.
I initially planned to sculpt a moth for the neckpiece, but quickly abandoned that idea while I struggled to make flowers. I tried to incorporate a brass bat stamping from B'sue Boutiques during the sculpting phases and just couldn't make it work.
I gave the piece a distressed finish with some burnt umber acrylic paint. The paint gets into all the nooks and crannies and gives them dimension and definition. It also dulled the white on the flowers. I almost skipped this step, but I figured "What the heck? It's already lopsided anyway."
As I stared at my distressed garden in all its lopsided glory, I saw just the place for my bat. I opted to attach him with some glue rather than adding more clay and doing another cure in the oven. But first I used a bit of steel wool to rub off a bit of the rusty black finish and reveal coppery highlights.
I think the neck piece is still unbalanced, but the addition of the bat is an improvement. He fits just perfectly behind the open blossoms, as if he's perched right where I intended him to be all along. And he's pretty brazen about his position.
The Midnight Blooms Secret Garden
I thought about making a few polymer clay buds to incorporate into the necklace. But then I remembered I originally wanted it to have a moth too. And in looking through my stash of antiqued copper beads for something moth-like, I found a couple of rusty black brass bead caps from B'sue. All I needed to complete my necklace was a few beads, copper wire, a clasp, and some oxidized copper chain.
My secret garden is quiet, dark, and peaceful. It only blooms at night, when other flowers are sleeping. And you may have to wait all year for that one night when the flowers blossom, releasing the sweet fragrance that attracts bats and moths. And by morning, the flowers will be gone, as if it were only a dream.
             Lunar presence,
foredoomed, already dying,
it charged the room
with plangency

older than human
cries, ancient as prayers
invoking Osiris, Krishna,
Tezcátlipóca.

We spoke
in whispers when
we spoke
at all …

~Robert Hayden, The Night-Blooming Cereus
Thanks so much for visiting my blog today and reading about my design process. Maybe someday I will have a real midnight garden.  Where I can sit beneath the night sky quietly reflecting, as bats and moths wait for flowers to bloom by the light of the moon.
I hope you'll stop by again some time to see my next jewelry design and read about whatever other creative adventures I've been on. Did you know you can subscribe to get my posts via email? Or by feed servers? There are some handy helpful links over in the right sidebar of my blog page.