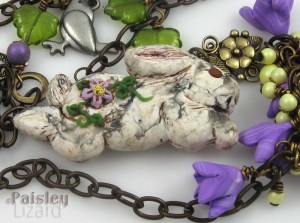 When I saw that Art Jewelry Elements (AJE) was doing a theme challenge for March, and anyone could join in, I got busy designing. The theme for the challenge is March Hares.
To participate,  artists needed to design a jewelry component or finished piece of jewelry featuring hares, or rabbits. The AJE team created some amazing rabbit components, and we were also free to use or make a component of our own.
Prior to learning of the challenge, I had this adorable white rabbit connector from Jetta Bug Jewelry on my Etsy wish list. This challenge was the perfect excuse to order it. As if I needed an excuse, right? I am a big fan of Rejetta's whimsical polymer clay critters. You can see a few of my other favorites from her shop in this feature article I wrote about her work.
Rabbits, or hares, are commonly associated with spring, which is when flowers start blooming. My little white rabbit connector has a tiny purple flower on her flank. That gave me the idea to make some purple crocus flower beads. Crocus are also harbingers of spring.
Another thing people associate with spring is the robin. Although robins are around in winter too, I don't think they get noticed as much as when they're out in force hunting for worms as the ground thaws. And eggs, especially the decorated kind you hunt for? Those are symbols of spring. So, my necklace also has a nest with speckled blue robin's eggs and little robin charm.
I don't normally do asymmetric designs, but I often admire them. And I've been working on adding more of them to my repertoire. I won't tell you how many times I rearranged the components in this design, or how many times I took bits and pieces off and put them back on in a different spot. Let's just say, asymmetry doesn't come easily for me.
I made the purple crocus flowers and the speckled blue robin's eggs from polymer clay. The necklace needed some green, for spring leaves and to accent the vines on the rabbit, so there are some Czech pressed glass leaves. The centers of the crocus flowers are yellow like the center of the flower on the rabbit, but you don't notice them as the blossoms are hanging down. I added some Swarovski crystal pearls in pastel yellow to bring more of that color into the design.
I wanted to add a little robin above the nest. Alas, I don't have one in my stash of artisan beads, and I wasn't up for attempting to sculpt a teeny tiny bird. So, I dug up this little metal charm in an antique silver finish. The wire nest and the chain are antique finish brass, as is the small flower connector below the crocus.
And did I mention the bunny is double-sided? Rejetta does such a wonderful job with her little polymer clay sculptures. This white rabbit is every bit as cute on the flip side as she is from the front.
I am thrilled that the AJE team has decided to hold these theme challenges. This one was so much fun. I look forward to the next one later this year. I wonder what it will be? Until then, hop around to have a look at all the other March Hare designs from the AJE design team and other guest participants.
Art Jewelry Elements Team
Jenny Davies-Reazor
Caroline Dewison
Lesley Watt
Linda Landig
Niky Sayers
Melissa Meman
Rebekah Payne
Lindsay Starr
Guests
Aural
Heather
Cindy Martin-Shaw
Keren Panthaki
Jackie Ryan
Karin Grosset Grange
Pamela Traub
Tammy Adams (That's me!)
Karen
Michelle McEnroe