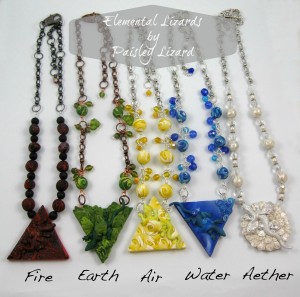 Welcome to the third and final blog hop for the B'sue Boutiques Build a Line design challenge. My classmates and I are revealing the jewelry lines we set out to design, and sharing some things we've learned along the way, from each other, and from our instructor, Brenda Sue (aka B'sue) Lansdowne of B'sue Boutiques.
If you recall from Part 1 of my posts about this journey, I set out to create a line of "Elemental Lizards" with one necklace for each of the five elements. In Part 2, I showed you the mixed media pendant focals and accent beads I had created, but no finished jewelry designs. (I was saving them for today.)
Today in Part 3, I am unveiling (ta-da!) the final necklaces incorporating those focals and beads, as well as a few other pieces I cooked up to go with the theme. And I'm summarizing some things I learned along the way.
About the Jewelry
The jewelry I designed for this challenge is of the mixed-media genre, incorporating metal, pigments, paints, and polymer clay. The style is a fusion of rustic and whimsical, or rustic whimsy. Or rather, that was my initial plan. As you'll see, some of the deigns turned out far too sparkly to be considered rustic.
These are statement necklaces: although not over-the-top large or elaborate, they are not minimalist. It is my hope they will appeal to lovers of lizards and nature, followers of astrology, students of alchemy, magic practitioners, feng shui enthusiasts, and collectors of art jewelry.
The Cohesive Elements
A jewelry line needs common elements to make it look cohesive. Every piece in the line need not include every element, but there should be commonalities to tie the line together. A line also needs some variety, but the variations should not detract from the common elements. These are the features that connect the pieces of my line, and how I have varied them to provide options for my customers.
Lizards. Each of the five primary necklaces includes a lizard in the focal. The lizards are brass stampings from B'sue Boutiques that I colorized to match the elements.  I also created a "lizard-free zone" of focals with the same backgrounds, minus the lizards. The earrings and smaller pieces do not include lizards because the brass stampings were only available in one size. However, I might incorporate some into bracelet bars in the near future.
The decision to create a "lizard-free zone" as some of my classmates have called the focals sans lizard, came after my initial proposal for the "Elemental Lizards" line. (I hear lizards scare the bejesus out of some people.) So, I may change the name of the line to simply "Elementals." Which also leaves me room to make elemental frogs, elemental cats, elemental dragonflies, etc. as sub-lines.
Color:  There are five color palettes to choose from in this line. There are the three primary colors for the focals and coordinating beads: red, yellow, and blue. There is also one secondary color: green. And there is a neutral: white. In addition, I used oxidized copper, oxidized silver, and gunmetal finish chain and wire, depending on the color of the focal.
Shapes. Each of the focals are based on a geometric shape: either triangle or circle. (I'll tell you why in a minute.) The overall design of each necklace is symmetrical. The earrings and smaller pieces do not carry the geometric shapes of the focals, but they are symmetrical.
Accent beads.  I created accent beads to coordinate with each focal, all using the same swirled cane pattern. In the end, I did not like the look of them for the Fire Lizard, so I went back to plan A for that one and used my "molten" polymer clay beads, which coordinate with the background of that focal.
To fill out the necklace, bracelet, and earring designs in an economical way, I also used Czech glass beads in the colors of the elements. Some ended up being too sparkly for the rustic look I had in mind.
After I re-made the Fire Lizard necklace using lava rock beads in lieu of the sparkly Czech glass, I liked it much better.  I think I can live with the sparkle for the Aether Lizard, which also uses Swarovski glass pearls. I might even be okay with the Earth Lizard and the lizard-free Water Element. I am definitely going to make/buy different beads for the Air Lizard and Water Lizard though.
Chain. Each of the necklaces uses the same style of "bead and link connector" chain from B'sue Boutiques for the back half of the design. Some necklaces use the chain for the front neckline, with wire-wrapped bead connectors. I added some twisted jump rings at intervals along the chain back to make the necklace lengths adjustable (from 18 to 21 inches).
The Pyramid
A line needs to be priced according to a pyramid, with at least three price points.  There's the bottom (least expensive) tier, presumably from where the highest volume of "impulse priced" sales would come. The middle tier has more expensive pieces, often because they are larger or more elaborate in design. And the top (most expensive tier) would have "kitchen sink" statement pieces and custom (one of a kind) designs. This is how my line fits into a price pyramid.
Bottom tier: The price range for the earrings, brooches, and bracelets in this line is $25-$65.
Middle tier: The price range for the pendant necklaces in this line is  $65-$135.
Upper tier:  I don't have any upper tier pieces for this line yet. The five necklaces I set out to create are the basis for the line. They can be made more elaborate, with more artisan beads, larger focals, etc.
The Symbolism
Have you been wondering why I used those saturated primary and secondary colors? Or why I chose geometric shapes for the focals? Maybe you wondered why all the triangles don't point the same direction or one focal is round?
The answers are simple. These are the colors and shapes that have historically (dating back to ancient Greece and the philosophers Plato and Aristotle) been used to represent the classical alchemy elements of earth, air, fire, water, and aether.
I'll note that in some cultures or systems, the colors are black, white, red, and yellow. And in others, the same five colors I've used are matched to different elements. For example, earth is yellow, and air is green. Or the elements are called earth, fire, wood, metal, and water. Or there are seven elements, not five. And so on.
Class Dismissed
That's it for my class project. I'd love your feedback on my designs. Which element speaks to you? Which necklace or earring design do you prefer? What other animals should be next?
Some of you may be asking, where is the paisley lizard necklace for this line? Well, there is indeed a Purple Paisley Lizard necklace. In my sketch book. It will be a larger statement piece, using one of the crescent style necklace blanks from B'sue Boutiques. It will probably fall in the top price tier. And you will have to check back here later to see what it look likes after I find time to complete it. So be sure to follow my blog or become a fan on Facebook so you won't miss the debut.
Until then, treat yourself to some eye candy and visit the blogs of my classmates, who are revealing their lines in all their gleaming glitter glory.  Many thanks to our instructor, B'sue, for accepting me into this class and putting up with my antics. And thanks also to my classmates, who have supported and entertained me along the way. I hope to see you all at the reunion. 😉
The Blog Hop Participants
***NOTE: If you leave a comment in the box below and it doesn't show up on my blog right away, don't fret. My spam filtering protocols are just holding on to it pending my approval.