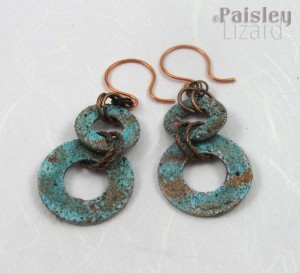 The theme for February's challenge on the Self-Representing Artists in Jewelry Design blog was patinas. Hooray for weathered, worn, and distressed!
A patina is a thin layer that forms on the surface of metals, wood, and stone through age, wear, or exposure to the elements. If you don't have years to wait for just the right aged effect, you can speed up the process with chemicals and heat, or fake it with pigments.
In jewelry design, using liver of sulphur (or LOS, for short) is a common way to get a darkened effect on many metals, including copper.  A quick dip in an LOS bath can turn bright copper dark brown or black. I like to use this sort of "antiqued" copper finish in my rustic jewelry designs.  Because, you know, rustic is supposed to look worn, weathered, aged, and anything but sparkly and new.
I also adore the shades of blue and green that happen over time as copper is exposed to water and sulphur or carbon dioxide. That speckled blue-green verdigris is one of my very favorite things. I'm told you can fake that verdigris weathering process using salt and vinegar potato chips. That seems like a horrible waste of chips to me. Luckily, there are also ways to fake it with pigments.
Last year I experimented with Vintaj metal paints and Iced Enamels to distress some components for the SRAJD "Road Warrior/Post Apocalypse" jewelry design challenge. I didn't end up using the washers or the key treated with Iced Enamels for that design. But I knew I'd use them eventually.
My earring design for this challenge incorporates three types of patina effect: faux (pigments), chemical, and wear. The metal washers have a faux copper verdigris, thanks to my Iced Resin experiments last year. The washers are connected with copper jump rings darkened chemically with LOS. The earrings hang on natural copper ear wires that will develop a patina naturally with wear.
The one patina-forming process missing in my earring design is heat. I do love the reds, oranges, and purples in a flame patina on copper. Alas, I haven't overcome my fear of using fire in my small apartment and still don't have a torch. Reportedly, heat patinas are the hardest to maintain anyway. The colors have to be sealed on the metal using wax or other surface treatments or they will fade over time.
In addition to experimenting with patina effects, I'm still playing around with backgrounds and props for photographing my jewelry. I know stark white is the least distracting background for product shots. It's also very, well, stark. A gray gradient is also a "popular" photo background for jewelry. And it does make color corrections practically unnecessary.
But a gray gradient doesn't say "rustic organic handmade" jewelry any more than stark white does. So I was thinking "what goes with Paisley Lizard?" and I thought "desert" and "sand."  I could only find one sandy paper in the scrapbook section of my local craft store. It isn't quite what I had in mind, but I think I'm getting warmer.
What do you think of the sand as a photo background? Does it enhance the jewelry? Or do you find it distracting? What do you think would be the ideal photo background for showcasing Paisley Lizard's jewelry designs?