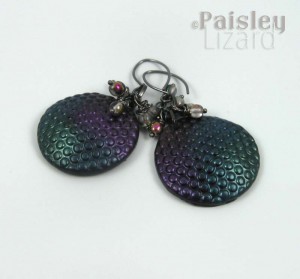 Have you ever looked deeply into the eyes of a dragonfly? Martin Amm, the photographer whose macro photos of dew-drop covered dragonflies were chosen for this month's We're All Ears earring design challenge, gets you up close and personal with them. And they are truly things of beauty – the photos and the eyes.
Like most insects, dragonflies have multifaceted compound eyes.  However, whereas most insects have a few thousand per eye (like around 6,000 in the common housefly), dragonflies have as many as 30,000 facets, or ommatidia, per eye. Ommatidia. What a fun word.
Because their eyes are so large, and wrap around their heads, dragonflies can see in every direction at once. This is part of what makes them high performance hunters who rarely miss catching their prey. It's also a large part of what enables them to escape being eaten themselves.
Whereas humans can see reds, greens, and blues, dragonflies can see all those colors plus ultraviolet. And, they can detect the plane of light polarization. So, they don't need fancy sunglasses to reduce glare when enjoying a day out on the water.
If dragonflies are one of your favorite insects because you admire their beauty, check out this list of 10 Surprisingly Brutal Facts About Dragonflies. You may find 10 new reasons to admire them. Personally, the fact that a single dragonfly can consume hundreds of mosquitoes per day is a main reason they're at the top of my list of awesome animals.
Like many jewelry designers, I've made my fair share of dragonfly-themed jewelry. The earrings I designed for this challenge are the first I've made to pay homage to their remarkable eyes. I used polymer clay, a texture sheet, and mica powders to create my larger-than-life dragonfly ommatidia.
The polymer clay dragonfly eye discs are topped with small Czech glass beads. The vitrail finish on the beads mimics the look of the dew drops in the photos. The earrings are on niobium ear wires.
Many thanks to our hostess, Erin Prais-Hintz of Tessori Trovati, for the inspiration this month. Be sure to check out the Earrings Everyday blog to see how Erin interpreted this theme for her earring designs. And then hop over to the links provided by the other participants in the challenge.