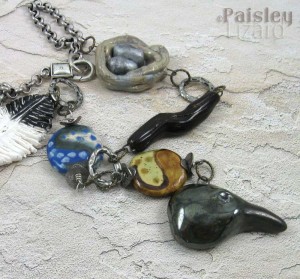 This is my first, and hopefully not last, Blu Mudd jewelry design challenge. The way it works is, Moriah Betterly, the artisan behind Blu Mudd, creates components, jewelry designers use them, and the designs are shared on Facebook where a winning design is chosen by popular vote.
Every participating jewelry designer uses the same Blu Mudd components, plus any beads or other components of their choosing. The components for this challenge were a seagull head-shaped pendant, a branch connector, and nest connector. 
What we, the designers, didn't know when we signed up, was that the components came in four color palettes. They were mailed out randomly and we didn't know about the other colors until the reveal. My set had a dark metallic glaze for the seagull, a dark brown for the branch, and the eggs in the nest were a metallic silver. I don't know why, but that palette made me think my seagull was an urbanite.
You see, "seagulls" aren't necessarily tied to the ocean. They can live far inland, including in or near major metropolitan areas. So I wondered, what would a day in the life of an urban seagull, landlocked and far away from the ocean, be like.
I imagined the seagull flying above the freeways and highrise buildings in search of food. And I chose colors that reminded me not of the ocean and nature, but of a city and its architecture. I kept the design simple, almost stark, adding just a few beads, connectors, chain, and a feather.
One side of my necklace represents the seagull in flight, silhouetted by the blue sky, looking down on the city. The view flying high over a large city is somewhat homegeneous in color, with lots of steely gray and slate blue, like in the blue and gray kazuri bead on that side. I made the seagull feather from polymer clay. It was my first time making a feather. Now I need to make more because they're so fun.
The other side of the necklace represents the seagull returning to its nest. Most seagulls are ground-nesting birds that gather in colonies during breeding season.  A second kazuri bead, in shades of brown, connects the seagull pendant to the necklace. I imagine my urban gull would have found a patch of unpaved land to build a nest. Maybe under the shade of a tree branch.
I used textured industrial-looking connectors in dark oxidized silver and brass, and simple wire wraps to join the components together. The necklace is finished with dark oxidized silver rolo chain and a boxy lobster clasp.
You can see the other color palettes for these components in the designs created for the challenge, including the winning entry, in this album on the Blu Mudd Facebook page.
I was lucky to learn of this design challenge at the last minute. I had recently discovered – and fallen in love with – Blu Mudd artisan jewelry components. And then found out Moriah was planning to get out of the jewelry component biz so she could dedicate more time to her pottery and sculpture making. There's a chance she'll continue to make jewelry components, at least on a limited scale, perhaps exclusively for challenges like this. My fingers are crossed.